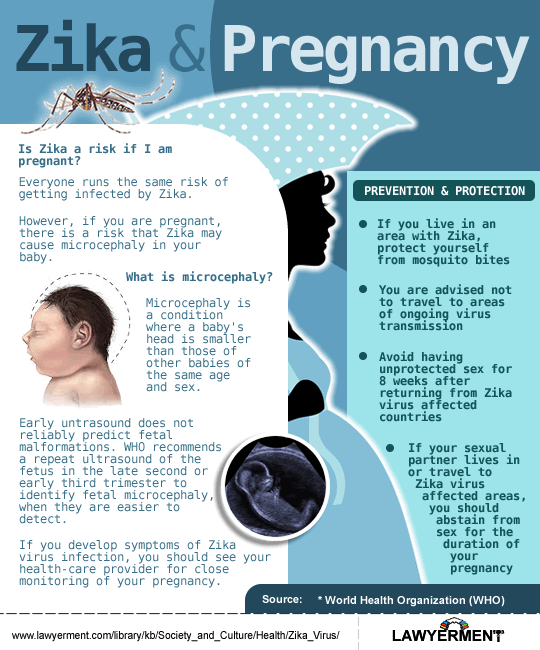 Infographic: Zika and Pregnancy
Is Zika a risk if I am pregnant?
Everyone runs the same risk of getting infected by Zika. But, there is a risk that Zika may cause microcephaly in your baby.
Protect yourself from mosquito bites and see a doctor if you think you have been infected.
Most women living in areas with Zika will give birth to normal infants.
What is microcephaly?
Microcephaly is a condition where a baby's head is smaller than those of other babies of the same age and sex. Microcephaly happens when there is either a problem in utero, causing the baby's brain to stop growing properly, or after birth when the head stops growing properly.
| | |
| --- | --- |
| | Early ultrasound does not reliably predict fetal malformations. World Health Organization (WHO) recommends a repeat ultrasound of the fetus in the late second or early third trimester, preferably between 28 and 30 weeks, to identify fetal microcephaly, when they are easier to detect. |
There is no specific treatment that returns the head size to normal.
Children born with microcephaly often have development challenges as they grow older. Severely impaired intellectual development is common, but disturbances in motor functions may not appear until later in life.
In some cases, children with microcephaly will grow normally and develop normal intelligence.
Breastfeeding
Zika virus has been detected in breast milk of mothers with Zika infection, but there is currently no evidence that the virus is transmitted to babies through breastfeeding.
World Health Organization (WHO) recommends exclusive breastfeeding for the first six (6) months of life.
Children who are breastfed for longer period have lower infectious morbidity and mortality, fewer dental malocclusions and higher intelligence than do those who are breastfed for shorter periods, or not breastfeed.
In light of the current evidence available, the benefits of breastfeeding for the infant and mother outweigh any potential risk of Zika virus transmission through breast milk.
Traveling
If you are pregnant and living in an area without Zika, avoid traveling to areas of ongoing virus transmission.
Avoid having unprotected sex for 8 weeks after returning from Zika virus affected countries.
If your sexual partner lives in or travel to Zika virus affected areas, you should abstain from sex for the duration of your pregnancy or ensure safer sexual practices.
References