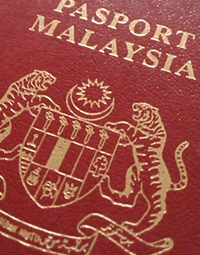 You can apply for a Malaysian passport if you have Malaysian nationality. But there are some circumstances where your application can be refused or your existing passport can be revoked.
However, having a Malaysian nationality doesn't guarantee you a passport. For example, you may not get a new passport or your existing passport may be taken from you if
you're suspected of a serious crime and an arrest warrant has been issued


a court order stops you having a Malaysian passport or restricts your travel


you're on bail and bail conditions mean you can't leave Malaysia


you've been brought back to Malaysia previously at the government's expense and haven't repaid the debt
| | |
| --- | --- |
| | You can check your immigration status online on application for passport and traveling overseas using the Immigration Control Status Checking system by the Immigration Department of Malaysia |
A standard Malaysian passport is 50 pages and valid for five (5) years. 32-page and 64-page passports were no longer available.
The electronic passport or ePassport was launched on 24 March 1998 and featured a microchip embedded in back cover of the passport. The microchip, with a write-once format, was encoded with fingerprint and facial images and textual data.

On 17 December 2002, ePassport with biometric was introduced, replacing the fingerprint image with fingerprint biometric template. The microchip was designed to write-many.

In February 2010, the Malaysian passport was further enhanced to comply with the International Civil Aviation Organization (ICAO) standards on biometric and machine-readable passports (MRPs). As a result, the 48-page passport was introduced.

In May 2013, the passport was upgraded to incorporate the polycarbonate laser engraving (PLE) feature for added security and the pages in a 48-page passport was increased to 50 pages.

Two-year passport was scrapped in January 2015.
A passport can also be cancelled or not renewed if it's for a child and there's an injunction issued by the court prohibiting the child from being taken out of Malaysia.
Your eligibility and entitlement to a Malaysian passport will be considered when you apply.
Passports belong to the government and can be cancelled or revoked at any time.
| | |
| --- | --- |
| | Don't book travel until you have your passport - doing so is at your own risk. |