The Marriage Tribunal 1 will call both parties for meetings and try to resolve your matrimonial difficulties within six (6) months.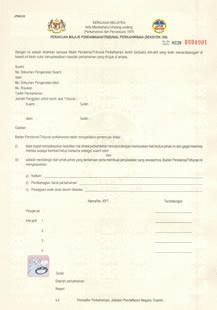 You and your spouse will be required to attend and each of you will be given the opportunity of being heard. The Marriage Tribunal may hear a member of your family or your spouse's family, if it thinks fit and may adjourn its proceedings from time to time.
No advocate or solicitor will be involved in the proceeding before a Marriage Tribunal.
If the Marriage Tribunal failed to resolve the matrimonial difficulty to the satisfactory of both parties and to persuade you and your spouse to resume married life together, it will issue you a Marriage Tribunal Declaration Certificate (Malay:
Sijil Perakuan Majlis Pendamaian/Tribunal Perkahwinan
) on Form JPN.KC29 to enable you to
petition for a divorce
. A payment of RM20.00 is required for the issuance of the certificate.
You may apply to court to be exempted from referring your case to the Marriage Tribunal if :
you and your spouse mutually agree that the marriage be dissolved;


either party to the marriage has embraced Islam;


you allege that you have been deserted by and do not know the whereabouts of your spouse;


your spouse is residing abroad and is unlikely to enter Malaysia within six (6) months after the date of divorce petition;


your spouse has been required to appear before a Marriage Tribunal and has wilfully failed to attend;


your spouse is imprisoned for a term of five (5) years or more;


you allege that your spouse is suffering from an incurable mental illness; or


the court is satisfied that there are exceptional circumstances which make reference to a Marriage Tribunal impracticable.
References
Marriage and Divorce Division of the National Registration Department of Malaysia (Malay: Bahagian Perkahwinan dan Perceraian, Jabatan Pendaftaran Negara Malaysia)


Law Reform (Marriage and Divorce) Act 1976 [Act 164] & Rules