The amount of money to be invested in various assets depends on:
Your goals and needs - to buy a house, travel or retirement needs


Your age at the time of investment - this will decide how much risk you can take. For instance, if you are young, you can invest in relatively riskier investments


Your income at the time of investment - if you earn more, you will have more money to invest. The level of wealth will also influence the types of investments you can hold


Your occupation - if your job provides retirement plans, you may not want to have a separate retirement plan


Time horizon - when do you want to sell your assets?


Liquidity - how fast can you convert your assets into cash?


Tolerance for risk - how much risk are you willing to take?
Different individuals have different background and will have different considerations when deciding on an investment strategy.
You should select your investments based on your own circumstances.
A common method used in deciding the investment strategy is the 'life cycle approach' which is based on the financial periods of the investor during his/her life.
The table below illustrates the different strategies an investor can take at different points of his or her life: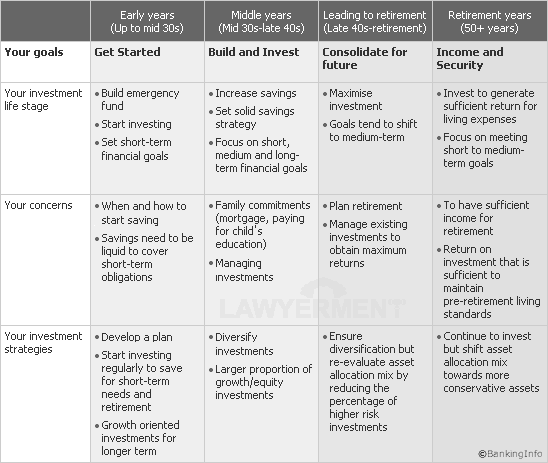 Reprinted with permission from BankingInfo (A Consumer Education Programme by Bank Negara Malaysia)