Time is the greatest asset for anyone who wants to invest.
The earlier you invest, the greater is your return on the value of your money. This is due to the concept of compound interest where you will earn interest on your original investment and the interest earned.
Even one percentage point can make a difference in the long run.
The chart below illustrates how RM1,000 investment will grow over a period of 40 years with different rates of return.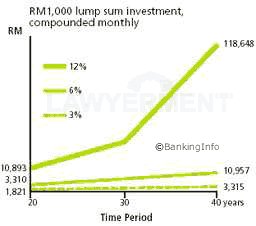 Reprinted with permission from BankingInfo (A Consumer Education Programme by Bank Negara Malaysia)