Before deciding how your money should be managed, you need to determine the financial situation and financial goals for both you and your business. To do this, you need to:
Understand your business and personal financial goals and constraints


Analyse your business and personal financial position using net worth 1 and cash flow analysis


Assess your business risks and personal risk profile
You need to take into account your personal financial situation because as a business owner, your financial situation is closely tied to the state of your business.
Once you have determined your net worth and set your goals, you will need to have an action plan to achieve these goals.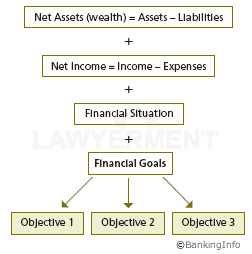 References
Net worth analysis - A method to determine one's net assets by comparing total assets against total liabilities.
Reprinted with permission from BankingInfo (A Consumer Education Programme by Bank Negara Malaysia)