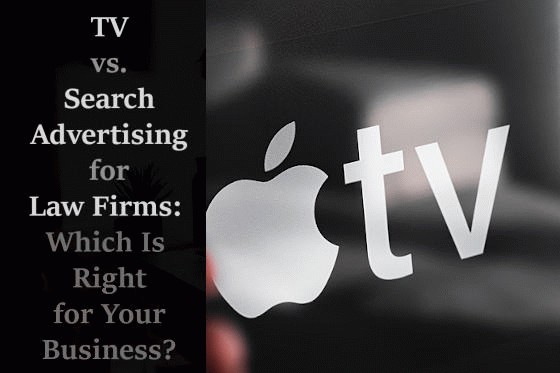 Marketing your law firm nowadays is essential. With the number of law firms starting each year, the market is becoming more saturated. This makes expertise and experience the secondary factor when people hire lawyers. Instead, they rely on what's more popular—the ones that they see often. With such, you may have to boost your marketing strategies. Keep reading to find out if TV or search advertising is better for your law firm.
How TV Advertising Helps a Business
People still use television to watch the news, sports, and other significant events. With such, it's no secret that law firms can still take advantage of TV advertising. When you're comparing TV and search advertising, you'll get to understand that TV ads can deliver the following benefits:
1. Improve Brand Awareness
As mentioned, being in the legal industry involves tough competition. To excel, you should come up with a creative idea in your branding.
You should learn to anticipate the future requirements of the people. You may introduce your advertisement to individuals who currently don't seek any legal help. However, this doesn't suggest that this group of people will never need a lawyer in the next few days or months. And, they're likely to remember your firm if they regularly see your TV advertisement. As a result, you'll have a greater chance of converting these people once they'll need the service of a lawyer in the future.
By investing in a TV advertisement, you can regularly market your brand, which can help establish your firm's reputation.
2. Suitable for Any Place and Time
Every household has a television, so this means that your TV advertisements can, indeed, reach a lot of families. What's even more amazing about TV ads is that they're viewable even in hospital rooms, doctor's offices, retail floors, and a lot more. Therefore, an adequately strategized ad may lead to a multimillion-dollar client.
That's because one of your objectives in creating a TV ad is to successfully deliver it to potential viewers in the perfect time and place.
3. Avoid Skippable Ads
Many people who watch live events prefer to watch them on TV rather than subscribing to a streaming service. Regardless of the numerous alternatives, television remains to be a valuable choice. And, when they watch live events on TV, they can't skip the ads. Thus, using this opportunity can help your law firm gain more exposure.
Your ads can reach more potential clients, especially when your ads appear in international and national events, like boxing and the Super Bowl.
How Search Advertising Helps a Business
Another marketing strategy is to go for search advertising. This includes pay-per-click (PPC) ads, social media ads, Google ads, and other digital marketing strategies. When you use this ad, people searching for law firms and other legal-related needs will likely see your ads.
Here's how a search ad can help you:
1. Generate High-Quality Traffic
If you want to target a particular market accurately, PPC is your best option. It can effectively generate high-quality traffic by starting ads and paying every time each ad is being clicked. That's because the ones who are more likely to click on your ads are people who require legal services.
In addition, there are other benefits of PPC:
Measures success by utilizing live ads, as well as tracking tools, such as Google Analytics

Helps your website's search engine optimization (SEO)

Customizes ads that suit your brand

Accurately targets leads
2. Target Clients Outside Your Location
If you want to expand your scope, one of the options is to use online platforms for your ads. Although magazine ads, billboards, and other traditional marketing methods are visible to a specific group of people, not all of these people are potential clients. Digital marketing, on the other hand, lets you reach clients even if they're outside your location. It can give the business the advantage of fast growth and establish an impressive reputation within a short period.
3. Affordable
Search advertising is more affordable than traditional ads. You can choose how much you're willing to spend on an ad, especially if you're using PPC ads. That's especially true because you can limit the number of funds for such. However, the reach will also be limited according to your budget.
Conclusion
Now that you've read the top benefits of the two ways of advertising your law firm can employ, you can choose which one to use. If your potential clients are more likely to use TV, TV ads may be a better option. And, what's even better is to combine the two. That way, you can ensure that your law firm gets as much exposure as possible.