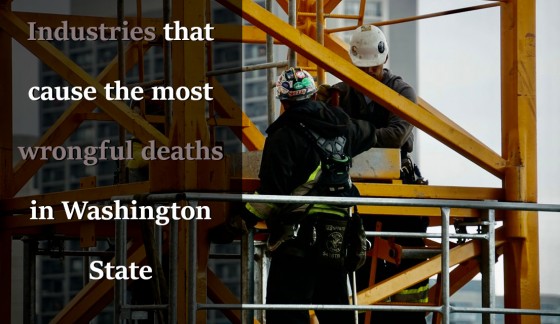 We tend not to think of wrongful death situations owing to our belief in the litany of safety protocols devoted to ensuring Washington state industries remain safe for employees and customers alike. While a correct assumption, industrial accidents claim an inordinate number of lives every year within the Evergreen State. We can get a look at the state of Washington's safety record based on governmental data, which the state releases annually to help raise awareness of workplace injuries and fatalities and does so as to reduce such occurrences. Let us explore those industries that cause the most wrongful deaths in Washington State before discussing who is eligible to sue for damages in the family, and what types of damages can be covered under a wrongful death suit in Washington.
Industries That Cause the Most Wrongful Deaths in Washington State
According to a 2019 Washington State Department of Labor & Industries report entitled, Work-Related Fatality Report identified those incidents, occupations, and industries most identified with fatal incidents within the state.
Released to help raise awareness and reduce fatal workplace incidents amongst companies and employees, the study provides a glimpse into those industries most prone to fatal accidents. In that year, 2019, the most recent available annual report, identified 63 workers who lost their lives while on the clock in Washington.
Categorized by industry, the state's labor agency identifies the highest number of fatalities coming from the following:
Construction industry

Transportation and Warehousing

Agriculture, Forestry, Fishing, and Hunting
The report notes that the overwhelming cause of fatalities across all of these industries is vehicle accidents with 23 incidents, or 37% of fatalities. In fact, burrowing down to the leading casualties of these auto accidents, heavy and tractor-trailer drivers comprise the highest number of deaths within a single occupation.
Additionally, the second largest category of casualties was homicide. Indeed, of the 11 women killed on the job in 2019, more than half were the victims of homicide. The most common industries associated with homicide deaths were convenience and grocery store involved in robberies.
In addition to the 23 deaths on the road and 12 homicides while on the job, a further eight workers were killed by being hit by falling objects, another seven passed after falling, and five worker deaths were attributed to suicide.
What is a Wrongful Death Claim in Washington State?
Legally speaking, a wrongful death claim can be filed with the courts when another's negligence is proven to be a cause or factor in another person's death. Indeed, under the state's legal code RCW 4.20.010, "when the death of a person is caused by the wrongful act, neglect, or default of another, his or her personal representative may maintain an action for damages against the person causing death."
Further, the law notes those parties who are eligible to seek recompense dividing them into primary and secondary beneficiaries. Primary beneficiaries include spouses, children, and domestic partners. Secondary beneficiaries are recognized in the event that the deceased had no primary beneficiaries, and this category includes parents and siblings.
As mentioned, nobody typically believes that they will be killed while at work, but as shown above, these horrendous events occur far more frequently than we would like. Equally tragic, the people left behind who depended on that worker are immediately thrust into economic uncertainty.
Should a loved one perish while on the job, you have options in the Evergreen State to re-coop compensation should another be found at fault in that death.
What Are the Typical Types of Damages Awarded in Wrongful Death Suits?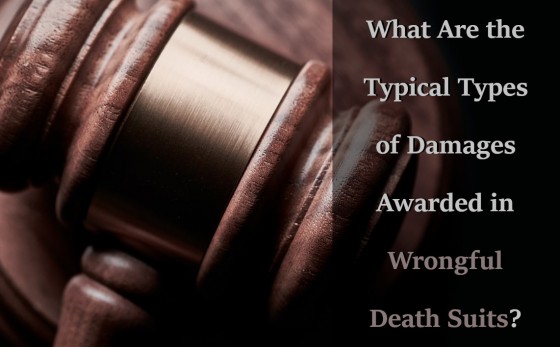 There is an array of damages available to loved ones following a wrongful death incident. Dealing with a death is hard enough but being further burdened by financial problems makes moving forward even harder. As such, wrongful death compensation seeks to ameliorate the burden of unexpected expenses, but also to help provide recompense for the emotional burden of their loved one's loss.
When the court awards damages in the aftermath of a wrongful death suit, it will look to provide a judgment that covers a myriad of compensation. Let's look at the list of compensation that courts typically award to victim's families in the aftermath of a work-related fatality.
Forms of financial compensation in the aftermath of a wrongful death include:
Burial costs—and funeral expenses are typically awarded when it is proven in a wrongful death suit that another's action precipitates. Covering everything from caskets to funeral home rentals, these expenses can quickly mount leaving surviving members of the family scrambling to make ends meet.

Lost wages—are rarely the first thing anyone thinks about in the immediate aftermath of a wrongful death at work. That being said however, as the victim is typically the leading breadwinner in the family, lost wages cannot be forgotten for long. Wrongful death compensation seeks to ameliorate these losses so the family can meet its basic necessities.

Loss of consortium—recognizes the critical role that the victim played in the social fabric of their family's life. The emotional trauma of losing a loved one cannot be overstated and placing a monetary award for that loss is difficult. That said however, Washington law recognizes that this is an important category of compensation for those who have lost a loved one owing to another's negligence.
If a loved one has been killed while on the job, you and your family have the right to receive financial compensation designed to not only help meet living expenses and lost wages in the aftermath of their death, but it also offers compensation for the less tangible loss of consortium. If you believe that your loved one died owing to the negligence of another, you need to reach out to an attorney that specializes in wrongful death suits.
When a loved one is suddenly torn away from your family owing to the tragedy of a workplace death, you are entitled to your day in court and a cash judgment should that death have been caused by another's negligence.
Call the Wrongful Death Attorneys at Strong Law
If you find yourself reeling from the wrongful death of a loved one who was working at the time of their death, you need to call the wrongful death attorneys at Strong Law to help ensure that you receive the financial recompense that you deserve in the aftermath of such a tragedy. Our team is dedicated to making sure that you get that court award to help you and your family gets on with your lives.
Additionally, Strong Law has the experience and resources in filing and winning these cases, so you will always know what is happening with your case. Moreover, our friendly team of attorneys, investigators, and staff are standing by to help you with the financial resources that you may need in the aftermath of a wrongful death incident in Washington State.
If you have questions regarding the wrongful death of a loved one, give our office at Strong Law a call, so we can begin working on the financial recompense that you and your family deserve. Call today for a free consultation and let us help you and your family get back on your feet in the aftermath of such a tragedy.