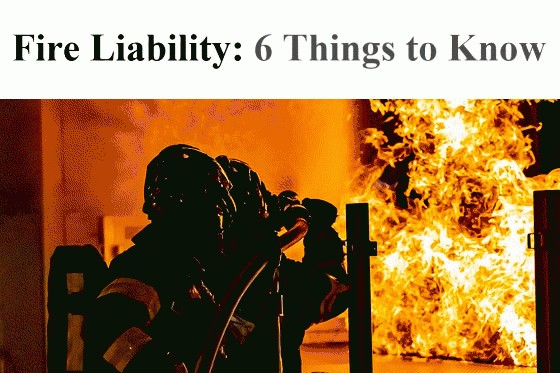 Imagine the devastating consequences of a raging fire on your property, reducing your cherished belongings to ashes. This is where fire insurance, an essential branch of property insurance, comes to the rescue. Fire policies provide a safety net, protecting property owners from the financial burden of fire damage and filling in the gaps left by basic property insurance. These policies step up to cover the substantial costs of replacement, repairs, and reconstruction in the aftermath of a fire.
For first-time property owners, navigating the complexities of fire liability can be a daunting task, especially when it comes to understanding the general exclusions in a fire insurance policy. Cases such as deliberate fire incidents, war, and nuclear risks may not be covered by insurance, leaving property owners vulnerable. That's why conducting thorough research or consulting a wildfire lawyer for guidance is necessary for securing the right coverage for your property.
In this article, you'll learn six things about fire insurance coverage. Read on!
1. It's a Complete Insurance Protection
The primary coverage for a fire liability is the damage or destruction caused by fire. Property owners may opt for this protection to increase the chances of recovery if the fire raises the property. Fire insurance is part of a homeowner's policy that caters to the interior and exterior of a property. Therefore, all the assets and injuries sustained within the property can apply to the compensation claims.
Besides compensation, lenders in the real estate ecosystem may request homeowner insurance before approving loans, such as mortgages. This is because of the underlying protection benefits to the policyholder. However, buying a stand-alone fire liability cover provides more probable causations, such as fire from electrical faults, natural disasters, and lightning.
2. Coverage Considerations
Since fire liability is an additional insurance, homeowners must review the property's value regularly. This helps to determine how much to spend on the premium. It also affects the fire insurance products a carrier can offer you. For example, an insurance company can consider rare, irreplaceable items and recommend a separate protection policy from a fire insurance product.
It's imperative to learn that compensation is fire liability limited by the value of the underlying policy. This is true if you consider the extent of damage to the property. The value of repairs or replacement might exceed the standard fire policy can provide. So, extensive coverage may be needed to take care of losses incurred by property owners.
Losses to property users are also factors that fire liability can consider and provide the needed cover. You can receive payment to support your living expenses if the property becomes unsuitable. Personal property and adjacent structures can also be recovered for the fire liability policy. However, an assessment of the damage caused by fire might omit items not documented by the property owner. Make sure that you update your portfolio list regularly to simplify recovery.
Finally, liability in fire insurance covers smoke or water damage that results from a fire accident. But the policy is effective for one year, and you can renew it to stay afloat should the eventuality occur.
3. Peril Under the Fire Liability
Peril in a fire insurance policy looks at the risk associated with fire. This can determine recovery or compensation claims by a policyholder. Natural calamities, landslides, water tank bursts, and explosions, among others, are some of the named perils in a typical fire liability cover. Therefore, listing them before signing a contract with a carrier is critical.
4. Types of Property Covered by Fire Liability
A standard fire insurance policy covers your home and its contents. It's crucial to ensure that they're captured in the insurance contract. Other properties that can appear in a fire liability policy include fixtures, buildings, and machinery that may be damaged in a fire incident.
5. Exclusions From the Fire Liability Policy
A fire liability has its limits that control what a policyholder can recover when filing for compensation. A deliberate fire is not considered, and the insurer cannot accept such a claim. Also, damage resulting from house break-ins, nuclear contamination, other nuclear-related causes, and other unlisted risks have no provisions in fire liability coverage.
6. Determination of Compensation
The cause of the fire is usually the determinant as to how compensation can be awarded in fire liability. Though, most policies take liability to cater for the damage, whether the fire started inside or outside the property. So, the reimbursement is a fire liability that can take either replacement costs or an actual cash value approach to settle the fire damage and losses.
In case you incur a total loss in a fire accident, your insurer can decide to reimburse you at the current market value. Other losses during the fire incident also depend on the valuation of the damaged property, and the compensation can consider such applications.
Conclusion
Fire liability has several underlying considerations that can be challenging if you're new to the insurance scene. Learning what the coverage provides is crucial before buying the additional insurance policy. Moreover, the perils must be captured first when assessing protection needs. This will help to determine the cost of the fire liability premiums.