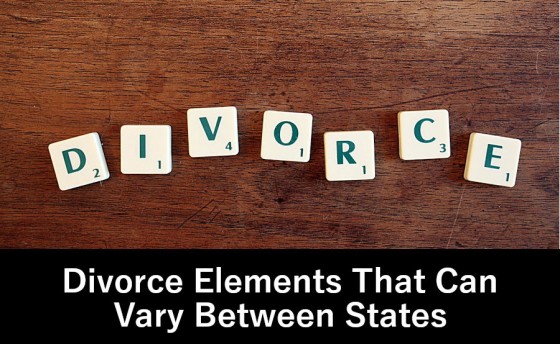 Divorce can be an emotionally taxing process at the best of times. Unfortunately, there are also elements that can make the situation more complex and frustrating. One of these is the differences in legislation throughout the country. If you and your partner live in different states, the arrangements and rulings will be based on the relevant statutes in only one of these states.
This can certainly add more administration to the process and even see differences in the settlement and custody outcomes you could experience. In most cases, the legislation applied to the outcome is based on the state of first filing or first finalized. As such, it's important to gain an understanding of some of the elements that can vary from state to state so you, your former spouse, and your legal team can make the most appropriate choices.
Let's take a look at a few of the key variable aspects.
Custody Arrangements
One of the most important — and often contentious — aspects of a divorce process is child custody arrangements. Shared custody arrangements and making certain there is a fair balance of parental decision-making is always the goal. Unfortunately, not all states have the same approach to handling custody matters.
Kentucky is considered to have one of the most positive examples of child custody legislation. This is because in 2018 it introduced a law for the presumption of joint custody. This essentially means an equal division of access and parental decision-making is the default in all divorce cases unless there is clear grounds against this. However, this change also makes the child's proximity to their home or school a deciding factor in custody. As such, if a parent is relocating out of state and there is potential to disrupt a child's home or school life, this will be taken into consideration.
New York, on the other hand, can be particularly problematic when it comes to shared custody arrangements. While there has been attempts at introducing legislation in relation to shared custody, none has yet passed. Which means the decisions about custody are largely in the hands of the individual court handling your case. As such, seeking joint custody in New York when there are disagreements between the parents and the potential for relocation can result in significant legal battles.
Division of Property
During the course of your marriage, you are likely to gather some significant assets. This could be property, savings and investments, even insurance policies. In the event of a divorce, you naturally want to make certain these assets are divided between you and your former spouse fairly. However, not all states entirely agree about how this is decided.
Colorado, for instance, is a non-community property state. This means that all are taken into account during the division of property. There is a distinction between items acquired during the marriage and an understanding that anything owned prior to the marriage or during separation (separate assets) is considered the sole property of the individual that acquired it.
However, while each party will own separate property, these assets can be taken into account by a court when dividing marital assets to make certain each has a fair balance of the overall property. This means that when you engage a family lawyer in Denver, part of their role is to gain a full understanding of both separate and marriage assets to ensure nothing is being withheld that would affect fair division.
In Arizona, on the other hand, a divorce would be subject to community property division. This means the separate assets are protected from division and not taken into account in the process. Simply put, all items gained during a marriage (aside from gifts or inheritance acquired by a single party) are split equally down the middle.
Cooling-Off Periods
There will be some circumstances in which you would like your divorce to be finalized as quickly as possible. This is certainly understandable. A long divorce process can be stressful. Not to mention that you may want to make a fresh start away from a toxic relationship. However, different states have legislation surrounding how swiftly you can bring your marriage to a close.
Several states have no cooling-off period. However, some of these have a residency requirement, meaning unless you've lived there for a while, you're unlikely to be able to take advantage of this. However, Alaska is the only state that has no residency requirement and no cooling-off period for a divorce; you simply have to be in the state at the time of filing and show intention to stay.
For the rest of the country, waiting times to be granted a divorce can vary from 10 days (Oklahoma) to 365 days (Maryland). Though most fall within the 30, 60, or 90 day range. However, it isn't just the standard waiting periods you need to take into account.
Some states have different cooling-off period requirements depending on the circumstances of the divorce. For instance, Maryland's long 365 day waiting period is extended to 2 years if there isn't mutual agreement to a divorce. While in Idaho, the usual 20 day cooling-off period is extended to as much as 90 days when children are involved.