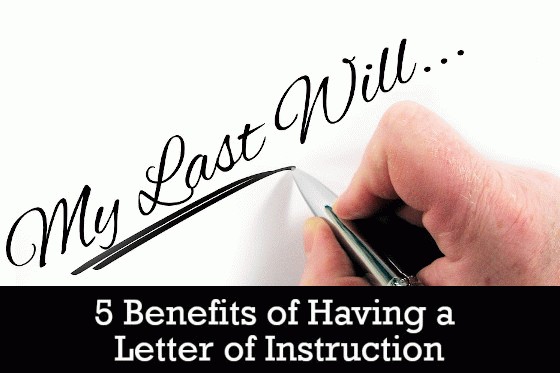 Anyone helping with the resolution of your estate should have access to your letter of instruction. This letter of instruction is not binding in law like a will. However, it can spell out your intentions to your family for matters not covered by the will and provide an easy-to-understand explanation of your overall estate plan to your executor. A letter of instruction should be drafted at a time when there's no pressing need and stored in a secure location.
Your heirs will appreciate it when you take the time to write them a letter of instruction explaining the details of your estate plan. It's not necessary to have a complex estate to take advantage of a trust. Items that aren't particularly valued but are meaningful to you can be designated in a letter of instruction. An estate plan which you can read about on sites like dallasprobatelaw.com can alleviate the burden on your loved ones by providing a comprehensive inventory of your assets and a directory of their whereabouts.
As these letters are not legally binding, you're free to include your desires and messages to your loved ones. Here's an enumeration of why you should have your letter of instruction made.
1. Decide for Yourself
A letter of instruction will significantly help you and your loved ones in case you get incapacitated. When you become incapacitated, you cannot make decisions on your own. When that happens, your loved ones will be burdened with the obligation to make decisions for you. Not only does this affect your loved ones, but it will also affect you in a way that you may be uncomfortable with if you're still able to feel and experience the things that they've decided for you. A person who writes out detailed instructions for others to follow can rest easy knowing that nobody else will be making decisions on their behalf.
2. Serves As a Framework
A letter of instruction lays out a detailed plan for managing your assets and properties. If you have one, your loved ones will not have difficulty managing your affairs and assets. You can utilize the letter of instruction to instruct your trustees on how to handle the trust's assets within the framework of discretionary trust. It also specifies when and to whom the trust assets should be distributed when you die.
3. Flexibility
One main advantage of having a letter of instruction is its flexibility. Making adjustments as needed without the expense and hassle of revising a will is a significant benefit of a letter of instruction. To ensure that the terms of a letter of instruction are up-to-date with your family, personal circumstances, and any other considerations (such as an investment or changes in tax rules), the letter of instruction has to be reviewed periodically. Unlike a will that is legally binding once signed and executed, a letter of instruction can be updated, depending on the status of your estate, assets, and properties.
4. Specific Yet Informal
This letter might also include personal wishes, including burial site and service preferences. You can choose the funeral home, service venue, and even the flowers used in the ceremony, as well as the disposition of your body or ashes. The letter also provides the specifics in case a life support system or palliative care is involved than would be allowed in a medical or healthcare power of attorney, which is another advantage. This letter includes an ethical will where you can communicate your beliefs, ideas, and principles to the family you'll leave behind.
A letter of instruction is also used to express more general wishes concerning the use of an inheritance that might not be covered by a will or trust. In addition, you can specify your final wishes for your digital legacy, including what should happen to your social media profiles.
5. Settles Legal Disputes
In worst-case scenarios, a letter of instruction provides directions on how a legal battle in court will be handled. In case there's a dispute over the estate in court, a letter of instructions can prove that you wanted a specific person to take care of it rather than the government or a person who would challenge your wishes.
Conclusion
In simple terms, an individual can make decisions about their own affairs in the event of legal incapacity through a letter of instruction, a type of estate planning.
In a court dispute about your estate, a letter of instruction can be used as evidence that you intended to manage your assets for someone else, not the government or one of your opponents. In times of great emotional distress, a letter of instruction can bring comfort to loved ones. It's not easy to consider the prospect of drafting such a letter; after all, no one enjoys dwelling on the possibility of their mortality. However, once you get going, you'll discover how beneficial it can be.