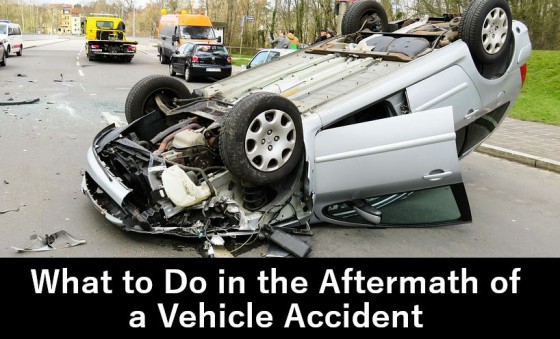 Getting into a vehicle accident is a traumatizing event. Unfortunately, it happens all too often across the country. Vehicle crashes are one of the leading causes of death and serious injury, so it is not something that you can assume will never happen to you. Even if you have a perfect safety record, you cannot control how other motorists behave on the roads.
Being involved in a collision is devastating for multiple reasons. First, there is the possibility of serious injury. Then, there is damage to the vehicle. After the fact, your may suffer from severe financial burdens due to medical bills, repair costs, or insurance rate hikes. All of this makes it difficult to return to normal when you have gotten into a vehicle accident.
It is important to know how to take care of yourself and your interests after an accident occurs. Follow these steps to help yourself legally and financially.
At the Scene of the Crash
Once authorities have been alerted and any immediate medical attention is administered, there are some steps you should remember to protect your interests going forward. Record as much information about the accident as you can. This includes pictures of the scene, eyewitness contact information, a copy of the accident report, insurance information of the other driver, and everything that you can think of. This step is crucial to dealing with insurance policy payouts and legal proceedings.
Contact Your Insurance Carrier
If you can, calling your insurance provider from the scene of the accident is a wise choice. When you speak to a representative, they will know exactly what you need to do before you leave the location. They might ask you what information you have collected from the other driver or advise you on additional details to record to help with the claim process. If you don't remember to call them before you leave the scene, that is okay, just know that it could hurt your case, even in a small way. Remind yourself to give them a call quickly to have a better chance of building your case and ensuring that you are covered by the policy.
Seek Medical Attention ASAP
Many types of injuries that will occur in a car accident may be hard to detect right away and will present symptoms later. Just because you feel fine after an accident does not mean that no internal damage has occurred. Your first priority is taking care of your body, so try to see a doctor or specialist as soon as you can after the collision. They will be able to conduct tests and run any screening processes to detect internal injuries that you may have suffered.
As an added bonus, documentation of injuries is a crucial part of a personal injury lawyer's strategy to help you recover damages. If you wait too long after the accident to be assessed for injuries, it may be difficult to prove they resulted from the accident.
Contact Legal Representation
In many accident cases, determining fault and pursuing damages is a huge factor in the aftermath. When you are involved in a collision that was not your fault, getting a lawyer involved is crucial to protecting your rights. For example, if you are hit by a commercial 18-wheeler, a Chicago truck accident lawyer could help you pursue damages after the accident and prove negligence on the part of the truck driver.
The expenses you face after a vehicle collision can add up very quickly. Medical bills, lost wages, pain, and suffering, and vehicle repairs are all options for damages that could result in financial compensation for a victim. Usually, there is a statute of limitations for when you can file this type of claim, so do not wait to get in touch with legal professionals who can advocate for you and build a case.
Understand Your Rights and Responsibilities
If you have never been in an accident before, it may be confusing to know how to proceed after the fact. The important thing to remember is that your safety comes first. Try to get off the road if possible, check for injuries, and then contact authorities. Then, after medical attention has been administered, consider how to protect your rights. Document as much information as you can ad exchange insurance details with the other driver. If possible, get in touch with your insurer to get an idea of what additional information they will need. Once you leave, schedule a check-up to identify any hidden damage to your body. Finally, reach out to a legal representative who has experience handling vehicle accident cases.
All of these steps will help you protect your rights, ensure your financial future, and earn any damages that you may be due as a result of the collision. Vehicle accidents are always dangerous and scary, but you can look out for your future by following this process.