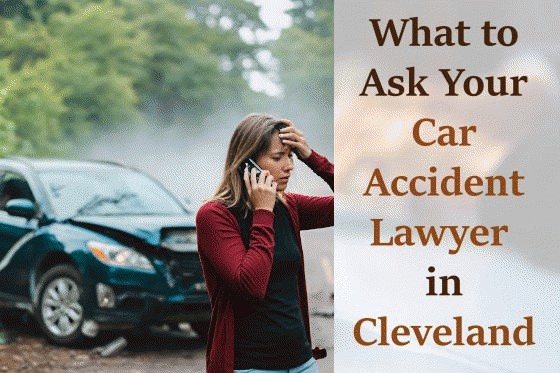 Being involved in a car accident is a very stressful situation to be in. Surely, if you've been a careful driver, the last thing that'll ever cross your mind is to become a victim of a vehicular collision. Unfortunately, not all drivers may be as cautious as you are. Once you hit the road, it's inevitable that the risk of an accident is always present.
The good news, however, is that when you meet an accident in Cleveland or any other state because of another driver's negligence, you have claims in court. This means you can legally uphold your rights as the injured driver. You can successfully do this by having a lawyer that'll defend your rights. It's for this reason that you also have to narrow down your options of a Cleveland car accident lawyer to be sure that the professional you're working with is reputable and the best for your case.
As your guide, here's a list of questions you should ask your car accident lawyer in Cleveland:
1. What Should Be Done After the Car Accident?
This first question is one of the most asked by many clients to their would-be lawyers. It's always the case that after your accident, you may be in a state of confusion where you can't even think of what's best for you to do. It makes sense, therefore, to ask your lawyer what should and can be done after the car accident.
If you haven't already, your lawyer may advise you to seek medical treatment. Even if the physical injuries are something you can handle at home, if those injuries have caused you to be absent from work or caused you to incur any expenses, it's only through a doctor's certification that you can validly have claims for reimbursement or compensation for the expenses. Your doctor's certification is needed to prove that those expenses exist and were incurred as a direct result of the car accident.
2. How Long Will the Lawsuit Last?
If the other party to the accident is easy and amicable to deal with, you won't have to worry too much. Usually, with the help of your lawyer, you may even receive your claims and get compensated without your case reaching the courts. These are speedy and easy transactions where you're able to receive what you rightfully deserve.
On the downside, there are some erring parties, however, which are difficult to deal with. This means you have to exert more effort to fight for your claims, which will, in most cases, turn into a full-blown trial. This is when your car accident claims lawsuit may be longer.
It's important to ask about the timeline, so you have an idea of what it is you're looking at. This means you have an overall idea as to how long the case will be and what the overall outlook of the case is.
3. What Deadlines Have to Be Met?
In Cleveland and other cities, states, or nations, there's a fact known as the 'Statute Of Limitations.' As its name implies, this refers to the period when you can file your case for your legal claims. Otherwise, if you go beyond the limit, you'll be considered to have slept on your rights to file and may be forever barred from filing an action.
Even when you have your lawyer performing all of the legal obligations for you, it's important to be aware of the deadlines. By doing so, you're able to take an active role in ensuring that all the files, documents, pieces of evidence, and other records are ready before the statute of limitations expires.
4. What Is the Entitled Compensation Amount for the Case?
The amount you're entitled to for compensation and damages isn't something that you decide on your own. It's not even one that your lawyer decides upon at random. There's a legal basis for the amount of the claim, and your lawyer will compute those claims and prove it in court.
Therefore, you should be aware of those amounts. By doing so, you don't make the mistake of expecting any more than what you deserve to receive.
Conclusion
If you've just met a car accident, asking the right questions can make all the difference in ensuring you're working with the right lawyer. Especially if you're the victim and you've been injured or there's any damage to your property, you have the right to compensation for damages under the law.
Those claims, however, aren't a process you can simply go through yourself. You need all the assistance you can get from a lawyer. When there are so many you can choose in Cleveland or wherever else you're from, it's important to have the best. Be mindful to ask the questions above.