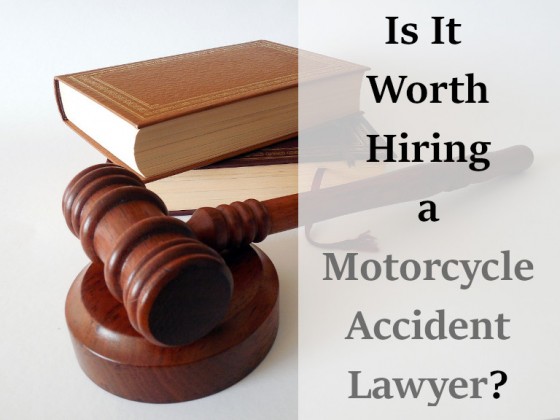 If you have recently been involved in a motorcycle accident, there are likely countless emotions and thoughts racing through your mind. One of the questions you may be asking yourself is, "Is it worth it to hire a motorcycle accident lawyer?" In motorcycle accidents where injuries are involved, it is generally best to consult an experienced motorcycle accident attorney, as they will help you obtain the compensation you are entitled to.
According to the National Highway Traffic Safety Administration, over 80 percent of all reported motorcycle accidents result in injury or death. However, it is critical that you first seek medical attention before reaching out to a motorcycle accident lawyer, as your health should be placed at the forefront. To learn whether it is worth hiring a motorcycle accident lawyer, continue reading this article.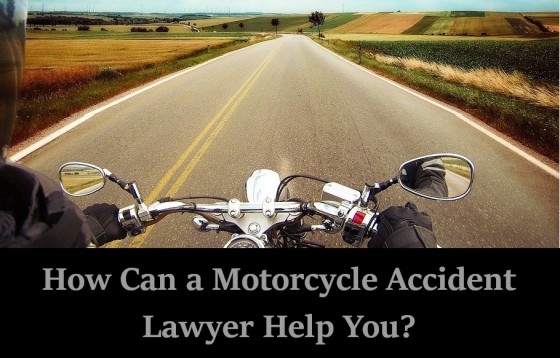 How Can a Motorcycle Accident Lawyer Help You?
There are multiple benefits to hiring a motorcycle accident attorney, also commonly referred to as a personal injury lawyer. A motorcycle accident lawyer can help you:
Alleviate your stress as you heal from your injuries. If you have suffered injuries as a result of your motorcycle accident, you will likely be juggling treatment and rehabilitation, along with daily life stressors. A personal injury attorney will help you tackle your claim, create a case strategy, and offer you legal options. That way, you can focus on healing rather than tedious paperwork or cumbersome files.

Gather evidence. In order to establish your claim and obtain compensation, you will need to prove that the opposing party was negligent. The evidence may be readily available in some accidents; however, in more complex cases, a motorcycle accident lawyer can gather any evidence you might have overlooked, helping you create a more comprehensive claim.

Negotiate with insurance companies. The opposing party's insurance company will work in their best interest, not yours. With a motorcycle accident lawyer by your side, you can rest assured that your best interests are represented. Your motorcycle accident attorney can communicate and negotiate with the opposing party's insurance company, ensuring that you are not given the short end of the stick.

Prove your damages. To obtain compensation for your injuries and other expenses related to the motorcycle accident, you must first prove your damages. A motorcycle accident attorney will be detail-oriented and adequately assess all medical costs and additional costs incurred. Your personal injury lawyer will also estimate what future expenses you could incur as a result of the accident. From there, this amount is used to calculate your final damages. Without a motorcycle accident lawyer, there are damages that you might have otherwise possibly missed, or fail to adequately prove.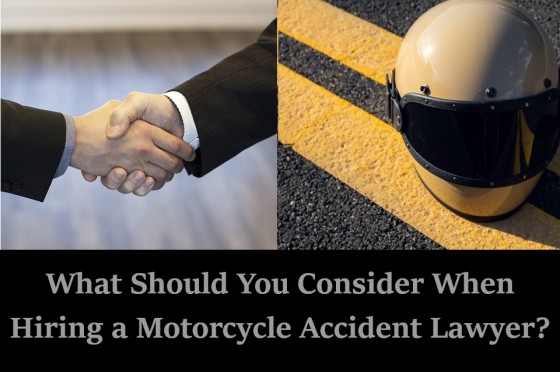 What Should You Consider When Hiring a Motorcycle Accident Lawyer?
Selecting a motorcycle accident lawyer can be an intimidating process, especially if you have never sought legal representation before. Before hiring a motorcycle accident lawyer, here are a few things that you should consider.
How many years of experience does the motorcycle accident lawyer have? A more experienced motorcycle accident lawyer can help you plan ahead, allowing you to avoid potential mishaps. Moreover, with an experienced motorcycle accident lawyer, you can also look at their success rate and assess whether they have had experience handling cases similar to yours.

How are their legal fees structured? Whether the motorcycle accident lawyer is charging an hourly rate or operating on a contingency fee, it is best that both parties are on the same page prior to entering into an attorney-client relationship.

What will communication be like? How often will you and your attorney correspond with one another? How will you communicate with one another? Will it be through email? Over the phone?
For more information on what to do following a motorcycle accident, click on this url.