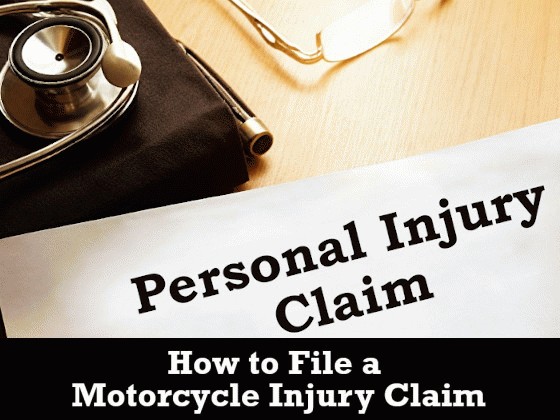 Riding a motorcycle can be an exciting experience. But despite the excitement, it can also put you at risk of road accidents. Unfortunately, getting injured in a motorcycle accident can be life-threatening. Since a motorcycle has no seatbelts and protective structures, the accident may cause catastrophic injuries, leading to a wide range of disabilities and even mental issues. Also, you may need a significant amount of money to shoulder your medical bills and other expenses related to recovery. This is where filing a motorcycle injury claim enters the picture.
Essentially, a motorcycle injury claim refers to a personal injury case that aims to hold the at-fault party liable for the injured party's injuries. It also allows the victim to seek compensation that can adequately pay the hospital bills, loss of property, pain, and suffering, and other similar losses. However, dealing with an injury claim can be complicated. There are many things to consider to ensure a successful outcome.
Keep reading this article to learn how to file a motorcycle injury claim as quickly as possible.
1. Get Medical Care As Soon As Possible
If you've been injured in a motorcycle accident, seeking immediate medical attention is essential. When you get yourself checked, you'll know the extent and severity of your injuries, and the doctor can provide you with the proper treatment to speed up healing and recovery.
Moreover, getting medical care can also play a crucial role in filing a motorcycle injury claim. It can allow you to prove that your injuries were caused by a motorcycle accident due to someone else's negligent acts using the medical records and other related documents.
2. Hire a Motorcycle Injury Lawyer
It's crucial to hire a legal professional like a San Bernardino motorcycle injury attorney or wherever you may be located when filing a motorcycle injury claim. Unless you're an expert in the field of personal injury law, you need someone who can guide you through the legal process. Like other civil proceedings, a motorcycle injury claim comes with paperwork and procedures that must be complied with to ensure its success. For example, if you want to file a claim, you need to establish the other driver's liability by proving the elements of negligence in your case. Otherwise, you can't get compensated for the injuries you've sustained in a motorcycle accident.
Generally, in a motorcycle injury claim, the burden of proving the elements of negligence is vested upon the injured victim. Hence, if you've been injured, you should establish the following with the assistance of a lawyer:
Duty of Care

Breach of Duty

Causation

Damages
In essence, your motorcycle injury lawyer should show that the alleged at-fault party had a duty of care to you as the injured victim. Their breach of duty is the result of their negligent act which then caused the accident where you sustained injuries that resulted in damages.
3. Gather Evidence
Your success in proving negligence in an injury claim usually depends on the strength of the evidence you've presented in court. If your evidence isn't sufficient to show that someone else's negligence caused the motorcycle accident and your injuries, you have a lower chance of getting a favorable outcome.
Thus, if you're filing a motorcycle injury claim anytime soon, you should start collecting certain pieces of evidence. For example, you should contact the police authorities right away to get a copy of the police report of what happened. It probably contains information that could help you prove that another driver was negligent, which is why they should shoulder the expenses associated with the motorcycle accident. Aside from the police report, it's also essential to collect information about the other driver involved in an accident scene, including their name, address, driver's license, and their insurance information.
On the other hand, there are also other types of evidence that you should gather to strengthen your chances of winning your motorcycle injury claim and receiving the compensation you need. These can include:
Medical records showing your injuries and the administered treatments;

Journal that outlines your healing and recovery journey;

Photographs and videos of the accident scene and the property damage involved;

Surveillance footage of the motorcycle accident within the area;

Motorcyclist's clothing, helmet, and other riding gear;

Payroll receipts showing lost wages and capacity to earn;

Testimonies from expert witnesses, including doctors, law enforcement authorities, and even accident reconstruction specialists;

Statements from eyewitnesses.

4. Create a Motorcycle Injury Claim
At this point, your motorcycle injury lawyer has already gathered adequate proof and other accident information. As such, it's time to make a claim as soon as possible. Make sure to prepare all the necessary papers as quickly as possible to avoid problems. Generally, motorcycle injury claims have statutes of limitations or time limits wherein you should initiate your claim in court. Failing to do so may result in waiving your right to hold the party at fault liable for your injuries.
Hence, it's best to work closely with your lawyer to properly deal with the statutes of limitations. They can advise you about the perfect time to bring the action within the deadline specified by your state laws. Once you've filed your injury claim in time, your legal representative will start representing you in all court proceedings, monitoring the progress of your case, and communicating with you about the case.
Final Thoughts
Generally speaking, filing a motorcycle injury claim can be challenging for injured motorcyclists. Given the stigma against motorcycle riders that they're reckless on the road, proving that someone else's negligence has caused the motorcycle accident and their injuries can be challenging without adequate proof.
Therefore, if you're a motorcycle rider who has been seriously injured in an accident, keep the information mentioned above in mind so you'll know what to do to file a successful injury claim against the at-fault party. Despite the challenges associated with the claim, you can still improve the odds of getting a desirable outcome as long as you follow some tips to make the process successful. Once you win the claim and obtain compensation for all the losses, you can make the best possible recovery and eventually get your normal life back in time.