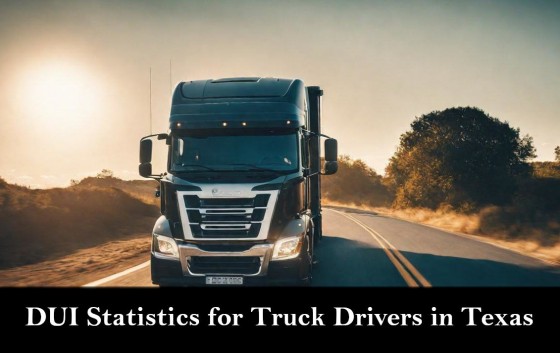 Driving under the influence (DUI) could cost travelers their lives. This is especially true when committed by the driver of a semi-truck that weighs 10,000 to 25,000 pounds with no cargo. This has been an increasing concern across Texas and the rest of the United States. Accidents involving commercial trucks can lead to calamity.
If you've been injured by a drunk truck driver, DUI legal professionals encourage speaking with an attorney for a truck accident injury. Attorneys can help you understand all the variables of your DUI trucking accident claim. Read on for more information about DUI truck driver statistics in Texas and how to handle your truck accident injury claim.
Texas DUI Truck Driving Statistics
Year after year Texas ranks high in DUI-related accidents. The Texas DOT reported that there were over 13,000 DUI-related accidents in 2020. All of these accidents didn't involve a commercial vehicle, but an accident that does can cause significant damages. DUIs are a grave issue in Texas and drivers need to protect themselves.
Data compiled in a 2019 study found that 2% of Texas truck drivers have been involved in a DUI incident. Although 2% doesn't seem like a lot, considering the number of commercial truck drivers, this could mean a substantial number of deadly DUI crashes.
Texas DUI Standards
Since trucks can cause significantly more damage than cars, truck drivers are legally held to a higher standard than other drivers, especially regarding alcohol. The legal Blood Alcohol Concentration (BAC) for most drivers is 0.08% but for truck drivers, the BAC legal limit is 0.04% Strict laws discourage drinking by commercial drivers, but accidents still occur.
DUI Consequences for Texas Truck Drivers
DUI accidents can cause immediate harm and future repercussions for those involved. If you're convicted of a DUI conviction while working as a truck driver, the following may occur:
Loss of Commercial Truck Driver's License (CDL)

Immediate termination

Legal ramifications like fines, lawsuits, or jail time
Being charged with a DUI can have a severe effect on the life and ability to drive of a trucker. Having their license revoked and losing their job could drastically alter a truck driver's life. That's why they must proceed soberly and with caution when behind the wheel of a big rig.
Ending Commercial Drunk Driving in Texas
Many states recognize that drunk driving is an issue and have implemented measures to combat it. Texas has adopted the following strategies and legal measures to reduce DUI among Texan truck drivers:
DUI checkpoints

Public awareness campaigns highlighting the pitfalls of drunk or drugged driving

Random alcohol and drug screening
Putting an end to drunk driving is going to take a community effort. Preventing DUI accidents among truck drivers will help save lives and money. If you've been involved in an accident, seek professional legal help from an experienced DUI lawyer.
Truck Company DUI Responsibility
Trucking companies can also be held responsible for the behavior of their drivers in certain instances. Companies are required to check their drivers' for alcohol abuse before hiring them and before they're allowed to return to driving after an accident, and at random when the company has suspicions regarding their sobriety behind the wheel.
Trucking companies are also required to maintain certain levels of financial responsibility to operate their commercial motor vehicles. In Texas, the minimum is $750,000 for vehicles over 10,000 pounds. This number is increased to $5,000,000 if hazardous materials are being transported.
If you've been involved in a DUI truck accident, consider speaking with an experienced attorney. They can help you understand the data and who's liable for your accident.