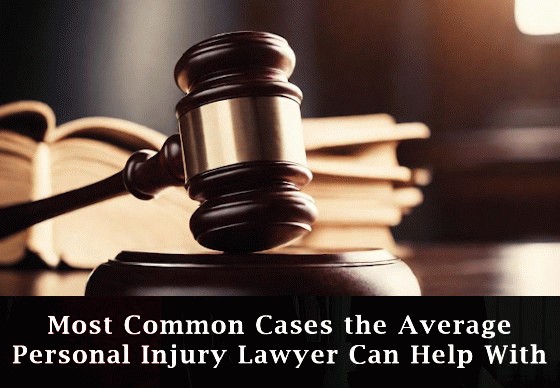 Personal injury lawyers are legal experts representing people who have experienced physical or psychological injuries due to someone else's ill intentions or negligence. However, unless you've needed to utilize their services before, you might be unsure whether they'll be able to help with your unique situation or if you'll have to handle it on your own. Some lawyers have chosen specialties, but you can generally expect to receive help navigating some of the following life-changing events.
Auto Accidents
When you approach personal injury lawyers from leading law firms like Heller Law Office, you'll be pleased to know they can assist with the legalities surrounding auto accidents. Auto accidents involving a vehicle, such as a car or truck, can be traumatic for all involved.
If you were injured in an accident that wasn't your fault, you're likely worried about how you'll be able to cover your accident-related costs. Most reputable personal injury lawyers will learn the facts of your case, help gather evidence to support your claim, and calculate fair compensation costs reflective of the economic and non-economic losses you experienced.
Slip and Fall Accidents
Proving negligence in a slip and fall accident is never easy, especially if you try to manage the legal process on your own. However, many skilled personal injury lawyers have experience fighting for the rights of their clients who have slipped or fallen on public or private property and sustained injuries. When they learn the facts of your case, they can work hard to establish negligence by trying to prove:
You were owed a duty of care by the property owner

The property owner breached their duty of care

The failure of duty of care resulted in your accident and subsequent injuries

Your accident resulted in financial consequences, such as medical bills and time off work
If successful, you might be eligible for compensation to reduce the financial toll your accident took on you.
Medical Malpractice
Medical malpractice describes a legal course of action when a healthcare professional deviates from expected healthcare standards or commits a negligent act or omission, resulting in injury or death. Often, negligence arises through diagnosis, treatment, management, or aftercare errors.
Many healthcare professionals, such as physicians, dentists, nurses, and pharmacists, can be liable under medical malpractice laws. If you believe you are a victim of medical malpractice, you can contact a personal injury lawyer and learn about your potential rights for compensation.
Product Liability
When we buy products, we expect them to be safe for use unless they are unavoidably dangerous. However, that isn't always the case when there are design, manufacturing, or finishing defects. It can be challenging to know where to turn when a product you've bought has resulted in injuries, but such situations can be left in the capable hands of personal injury lawyers.
The best personal injury lawyers specializing in product liability can place your unique scenario into one of three categories: defective manufacture, defective design, or failure to provide adequate warnings or instructions. A defectively manufactured product is one that causes an injury based on a flaw during the manufacturing process, such as a ladder with a loose rung.
If a product was defectively designed, it was made according to the manufacturer's specifications, but there was an error in the design itself. For example, a top-heavy vehicle with a tendency to flip over while cornering.
You might also purchase products that don't have warnings or instructions for safe use. An example would be medication with no information about side effects or safe dosages. If you have suffered an illness or injury relating to an unsafe product, a lawyer specializing in product liability can guide you through the legal process.
Wrongful Death
Many lawyers assist families through one of the most traumatic events of their lives – when someone they love dies due to the negligence of another party. This situation is known as wrongful death, and there are many possible types, such as:
Vehicle accidents

Pedestrian accidents

Bicycle accidents

Premise liability accidents

Drowning

Boating accidents

Workplace accidents and illnesses

Medical malpractice

Accidental poisoning and overdoses
Once your chosen lawyer learns the facts of your case, they can fight for your right to the compensation you deserve from another party's negligence, such as medical expenses, lost wages, funeral and burial expenses, and loss of future wages.
You might already know that legal experts are available to help with your legal situation. However, you might not know which one to turn to for assistance. Personal injury attorneys can assist with a wide range of accidents and incidents and fight for your rights to the compensation and resolution you deserve.