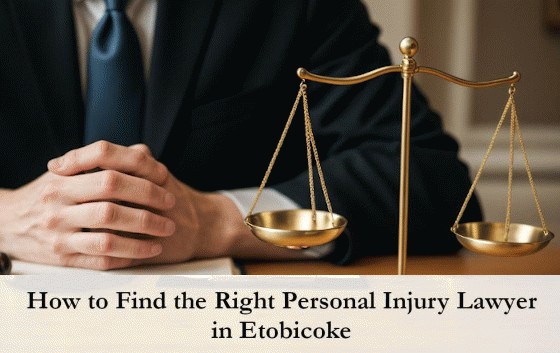 Any kind of personal injury can be traumatic. For example, you could be involved in a car crash or a slip-and-fall accident. Regardless of the injury, you would likely shoulder expensive medical costs, lose a paycheck, and deal with insurance providers.
You don't need to be distressed on top of being injured. So, instead of going through all these alone, you might want to consult a personal injury lawyer in Etobicoke. They can help you fight for your right and receive the proper compensation for your injury. With their assistance, you can recover without stressing too much about the outcome of your case.
This article shares helpful tips for finding a reliable attorney who'll fight for you.
1. Ask for Recommendations
When looking for the best personal injury lawyer in Etobicoke, you should ask people you trust for recommendations. Ask your loved ones, friends, co-workers, or anyone in your social circle if they know a lawyer who can help with your case.
Suppose you're lucky enough to be acquainted with a lawyer or know someone in the legal industry. In that case, you can ask for a referral. For instance, you may already have a family lawyer on your contact list. While they may be unable to assist you with your case, they can refer you to a lawyer they know or even work with.
With these recommendations from family, friends, and acquaintances, you can create a list of potential lawyers you can hire.
2. Look Online
You can always look online if you or your acquaintances have never worked with or needed to hire a personal injury lawyer. A simple search can quickly provide you with a long list of potential personal injuries in your area.
Searching online is also a convenient way to learn more about potential lawyers in your area. It allows you to check their online reputation and get a basic idea of their experience and services.
3. Check Specialty and Local Experience
When consulting a lawyer, you want to ask what type of law they practice. This question can provide insight into whether you're hiring a generalist or a specialist lawyer.
Suppose a lawyer takes on a broad range of cases; for instance, they can work on personal injury cases and real estate to criminal law. In this context, consider finding another attorney. Generalist lawyers may not have in-depth knowledge or enough experience to work on a specific case like yours.
You would want to hire an attorney specializing in personal injury law. They limit their practice to representing clients injured in different incidents.
4. Ask For Local Experience
Aside from specialty, you must also seek a personal injury lawyer with enough local experience. Personal injury laws can vary significantly by region and state. So, if you want a higher success rate, you should look for a local lawyer in Etobicoke who has been practicing there for years.
Local experience means that the lawyer is more familiar with local personal injury laws, court proceedings, and even crucial law practitioners. Such experience ensures that the lawyer is better equipped to prepare for litigation over compensation strategically. Moreover, working with a personal injury lawyer in the area allows for easier face-to-face meetings and communications.
5. Consider Your Budget
There's no denying that legal help can be quite expensive. On top of your medical expenses, hiring a reliable personal injury lawyer can quickly eat up your budget and even savings. You don't want to compromise your case by hiring the cheapest provider.
The most expensive personal injury lawyer doesn't always guarantee a sure-win case. Even if they did, the compensation you've won would only go to paying their service fee. As such, you should filter out your options and ask potential lawyers about their fees. Compare your choice and select the best value for your budget and needs.
Look for personal injury lawyers that offer flexible payments. For instance, attorneys charge on a contingency fee basis. You don't need to pay them until you get your compensation. If you win the case, the lawyer receives a percentage of the amount as payment. Some lawyers even offer clients guarantees—they don't need to be paid if they do not win the case. You don't have to pay for the lawyer's services if you have an unsuccessful compensation claim.
Takeaway
Getting injured, regardless of how minor, is a serious matter. Thus, don't hesitate to look for a reliable personal injury lawyer in Etobicoke to guide and represent your case. Make sure to consider the above tips to find the right one to fight for your right. You are entitled to some compensation and might as well get the amount you truly deserve.