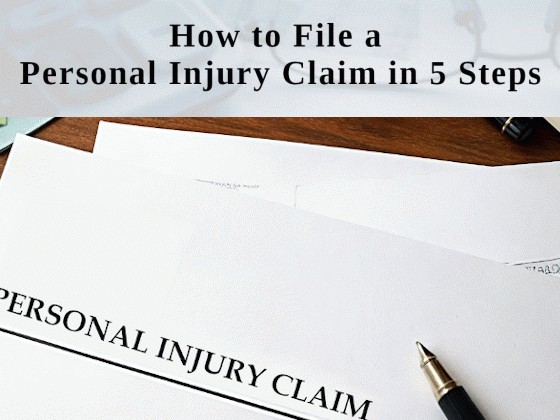 If you've been injured due to someone else's recklessness, you could be eligible for compensation. You could slip and fall on a wet floor because there are no signs, get mauled by the dog, and more. Along with filing a claim, you must prove you weren't responsible when you were injured. This article will tackle the steps to filing a claim and how to succeed.
Step 1: Seek Medical Treatment
When you've been injured at work, on the road, at an establishment, or on someone's property, seeking medical treatment as soon as possible is essential. You can call for an ambulance or have someone do it for you. Assuming that not feeling anything means you're not injured is a fatal mistake. Some injuries take longer to manifest, so having a medical professional check you should be your next step.
After the checkup, get a medical report of the findings about your injuries. It will help you and your lawyer gather proof for filing a claim. The at-fault party's insurance provider will do anything to pay little or not at all, and they can use the fact that you didn't go for treatment as soon as you can.
You can search for a personal injury lawyer like Karell Law to get legal counsel. Suppose you're too injured to see a lawyer for a consultation. Get a trusted friend or a loved one to inquire on your behalf. Most importantly, don't forget to inform your insurance provider about your injury, no matter how minor it is.
Step 2: Identify the Person at Fault
After getting a medical report and talking with a lawyer, you must identify who is responsible for your accident. Any person or entity can be held liable if the cause of the injury is negligence or a deliberate act.
There are times when more than one person is liable in the case. The possibility of multiple insurance policies providing coverage also occurs at times. Here are some common injury claims and the individuals who are likely to be held responsible:
The car driver that hit you

The driver's employer using the company vehicle

Owner of the home where you slipped and fell

Manufacturer of a defective product that caused you harm

The present storeowner when you incurred an injury in their place of establishment
Step 3: Gather Your Evidence
You need to gather evidence to prove your claim at this stage. A case with sufficient evidence is more likely to be taken seriously because a court of law can compel the insurance company to honor your claim. There are many kinds of physical evidence that you can secure depending on your injury. You'll want to gather the following evidence for your case:
Photographs and videos of your injuries like bruising or marks

Medical records and bills

Witness statements

Copy of police report

Insurance documents (claim from your insurer)

Expert witness
You and your personal injury lawyer must work together to gather the necessary evidence. Make sure to submit your journal or report about what happened to help your lawyer compare the evidence you've collected.
Step 4: Have Your Lawyer Calculate for Damages
Your lawyer will calculate how much the person or entity owes you due to their negligence or deliberate injury. The amount will include payment for economic and non-economic damages.
Economic damages are the lost wages and medical bills resulting from the injury caused. Non-economic damages are your pain and suffering. Your personal injury lawyer can help you assess the damages and how much the court can compel the at-fault party to compensate you. For example, your lawyer will calculate how many days' wages you lost when you were involved in an accident, receiving treatment, and days for rest and recovery.
The lawyer will determine how much money you are owed to cover all medical treatment expenses, property damage if your car is totaled, and others, such as loss of pay from your job for being in an accident.
Step 5: File Your Claim and Negotiate
After knowing how much you can potentially get, the next step is filing a claim against the responsible party's insurance and your provider. Suppose you don't know against whom you should file the claim. Your lawyer can help you decide which one to file your claim for.
As the claimant, you know how much you need and are willing to accept. If you and the other party cannot settle after much back and forth, you can take the case to trial.
Final Word
When filing a personal injury claim, seek medical attention and obtain a copy of the report for evidence. This step is crucial, apart from working with a legal professional. Gather enough evidence to ascertain the person at fault, calculate damages, and file your claim.
Expect a bit of back and forth when trying to reach a compromise. If not, take the case to a trial. That's also why hiring an experienced personal injury lawyer is essential for a higher chance of success.