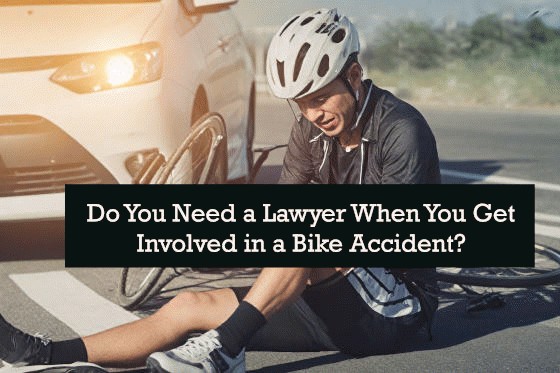 When you're using a bicycle as your main mode of transport, you have to be extra careful while using public roads. Motorcyclists are naturally less protected than those in cars and because of this, cycling accidents have a higher mortality rate than car accidents. If you were involved in a bike accident recently and suffered injuries, know that you're entitled to compensation for injuries and property damage.
However, getting compensated for a bike accident can be a difficult task, so it's important to get legal help for a bicycle accident when you can.
In this article, you can read about why it's essential to have a lawyer if you get involved in a bike accident.
Bike Accident
Bicycle accidents usually happen when one of the drivers is negligent. If it's the automobile driver's negligence, the cyclist can claim compensation. It's especially important to seek an attorney when the injury is serious. Serious injuries like bone fracture can require extensive medical care and turn out to be very expensive. Getting compensated for your bike accident can help you cover the medical costs you incur.
What to Do After the Accident
What you do immediately after your bike accident has a significant impact on how much you can recover through compensation for injuries and bike damage. This is also impactful in case of any lawsuits filed. You must wait for the police to arrive at the accident spot so that they can file a report, and perform additional necessary actions.
Here are a few things you can do to handle the accident scene appropriately:
Make sure you're safe. If you're in the middle of the road, move to the side.

Call emergency responders immediately.

Call your attorney, if possible.

Refrain from saying that you're fine until after thorough examination. Many times, the cyclists may get an adrenaline rush after the accident, subsiding the pain from any immediately imperceptible injuries.

Make sure not to negotiate with the other driver without a lawyer.

In case the other party leaves the accident spot, make sure to give the police a detailed description to ensure accurate police report. Describe the vehicle, the driver, and any damage done so that the police can track the party in question.
Collect All the Evidence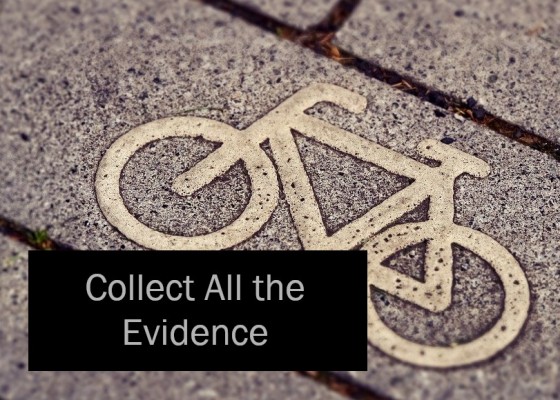 When the police arrive at the accident spot, you should be able to give a detailed description of the accident. This will ensure that your side of the story is also written in the police report. Make sure to report all perceptible injuries as well. Take photos of the accident scene and write down notes to describe incidents. If there's any damage in the accident spot, like a damaged helmet, or a broken bike part, don't pick it up, keep it there for evidence.
Also, get immediate medical help after the accident. This will serve as proof in case there's a lawsuit. Take several photos of your injury and document your symptoms regularly. A medical report can also be used as evidence for insurance companies. Leave your bike and any other damaged gear, in the state of damage, and take photos for proof.
Consult a Personal Injury Lawyer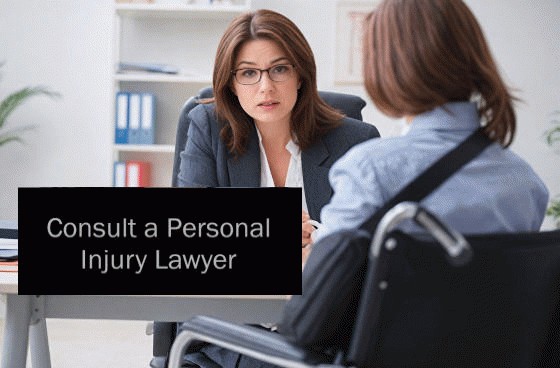 Since bike accidents can involve complex legalities, it's imperative to consult an experienced attorney who has handled bike accident cases. A knowledgeable attorney will be able to negotiate with insurance companies for just compensation, advise you on how to proceed with your case and represent you in a lawsuit. It's advisable not to contact your insurance company before consulting your attorney.
Most injury cases are easily solved without following a lawsuit. However, in case you need to go through one, find an attorney who can help you build your case by collecting the relevant evidence.
Conclusion
Though bikes are commonly seen on public roads, in most bike accident cases, there's a bias against cyclists for not following traffic rules. That's why it's crucial to be alert when you find yourself in a bike accident. Besides calling 911, remember to contact your attorney so that they can guide you through the entire process.
While you may be entitled to compensation, most insurance companies don't want to pay the amount that's fairly due. That's why it's advisable not to negotiate the compensation terms with the insurance company by yourself. Leave it to your attorney to work out the best compensation for you.
Though most injury cases don't require court trials, ensure that you have collected evidence, taken notes at the accident site, and have a copy of the police report. With all this information and a knowledgeable attorney, you're sure to get the compensation you're entitled to.