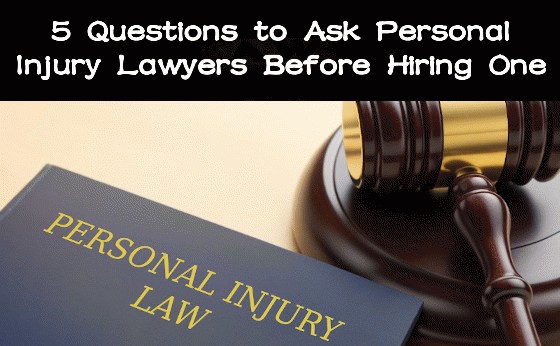 Personal injury is a complicated legal field as it's an umbrella term used to refer to other legal matters. Within the scope of personal injury law are car accidents, medical malpractice, assault, battery, animal bites, work injuries, slip and fall accidents, and even products liability. So, if you have a case within those ranges to bring to court, you might want to hire a personal injury lawyer.
Once you do decide to hire one, you may however realize that various law firms and lawyers are competing in the market. If you don't know what you're looking for, searching for a personal injury lawyer might take longer than anticipated. Hence, you could visit https://chrisandfrank.com/ and other websites to help you narrow down your search.
To further assist your search, read below for five questions you must first ask a personal injury lawyer before hiring one.
1. How Long Have You Practiced Personal Injury Law?
There's no substitute to experience, especially in the legal profession. This also includes their credentials and accolades gathered through the years of practicing their profession. To practice law, all lawyers have a fixed set of educational and examination requirements to pass first. This is where experience comes in as an edge.
The longer a certain lawyer has been practicing law, specifically on cases regarding personal injury, the more experience they'll have. That way, you have that added assurance of an accomplished and qualified lawyer.
2. What Is Your Track Record As a Personal Injury Law?
You may ask about the lawyer's track record of verdicts and settlements. The more personal injury cases won and settled fairly, the better it will be for your case. Surely, you wouldn't want to place your case in the hands of a lawyer who's not able to get the just and right compensation for their clients' cases.
You're already going through a lot with your injury, physically and mentally. Giving yourself a fair chance in court to ensure you're justly compensated for the negligence brought about by another, is at the hands of your lawyer.
3. What Is Your Contingency Fee or Percentage for Taking the Case?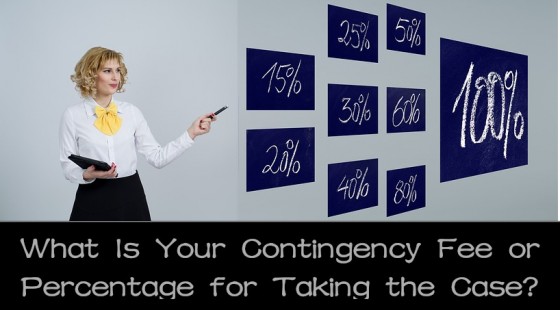 Like hiring any other professional, you have to be upfront about the fees. Don't be pressured to hire a lawyer you can't afford. Remember that the fee a lawyer charge doesn't always equate to quality. You still have to do your part with weighing the fees with the expertise, experience, and ratings of the particular lawyer.
You also have to know that many personal injury lawyers charge a contingency fee. This means you won't have to pay for their services upon hiring. Rather than an upfront fee, the lawyer will simply ask for a percentage of the settlement you'll receive when you win the case. In a way, this can be another advantage for you. It means the personal injury lawyer will work extra hard to ensure a more favorable outcome for your case.
4. Have You Represented Personal Injury Cases Similar to This?
A personal injury lawyer who has represented other clients in a personal injury case with circumstances similar to yours is another advantage on your end. This fact can give you added peace of mind that you're in good hands. They're well versed with how to go about your case, simply because this isn't their first time.
By asking this question, you can do follow-ups as well. Ask this personal injury lawyer about the steps they took to assure those clients of a better personal injury claim or compensation. If it's good enough for you, then go ahead and push through with that lawyer.
5. What Is Your Overall Opinion About This Personal Injury Case?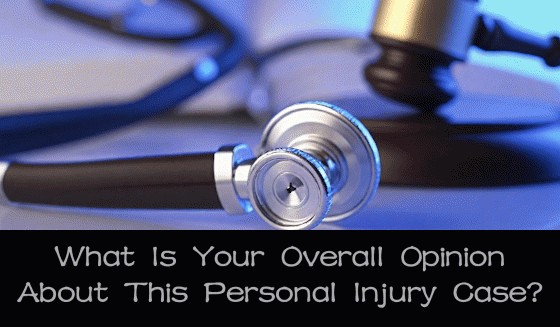 A good personal injury lawyer won't make any false promises or those that are too good to be true. They're going to be as honest as possible about your case right from the beginning. No lawyer should also promise a slam dunk victory, even when the odds and the circumstances are all in your favor. Remember that the defendant is also entitled to a day in court and a fair trial, so they'll fight for a lower settlement as well.
It's a prudent move to therefore ask about their overall opinion about your personal injury case. This is when you can tell whether or not you're going to have a smooth trial. Even personal injury cases with like circumstances could be treated differently in court, depending on other factors. Knowing what to expect can make you more attuned to having the best outcome for your case.
Conclusion
Before hiring a personal injury lawyer, you have to be certain the particular lawyer is good for you and your case. This isn't a determination you can make without exerting effort on your part. At the very least, you have to throw your questions right on the table immediately. If there are any more concerns you think are meritorious enough to ask, go ahead and do so. The more queries you make, you'll have a higher chance of hiring the best personal injury lawyer for your case.