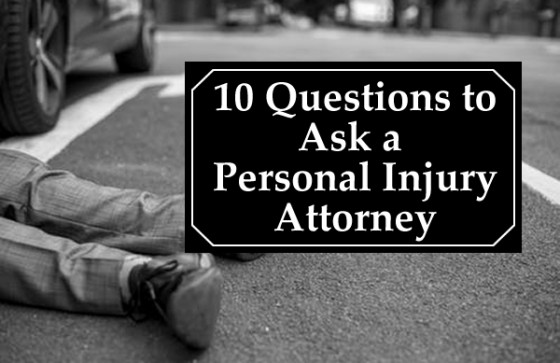 When you have been injured in an accident and are seeking compensation for your injuries, your losses or damage to your personal property, you don't want to have the additional worry of having hired the wrong professional to represent you. That is why it is so important to spend some time researching the best personal injury lawyer that can get you the most favorable settlement both with the other party and your insurance company.
Filing a personal injury lawsuit on your own without first hearing the opinion and advice of an attorney that specializes in personal injury may seem to be cheaper but could end up not only costing you more but having you miss out on the payments you may be entitled to.
Find The Best Personal Injury Attorney In Bucks County To Represent You
You may find the task of finding the right personal injury attorney a bit daunting. It may be the first time that you need to do so, and you may be feeling a little bit insecure and lost in an incomprehensible maze.
Once you have put together a list of possible candidates for the job, you may want to schedule an initial interview to determine which one you feel will work best with you. After all, remember that this will be someone that will be working closely with you for an uncertain period of time.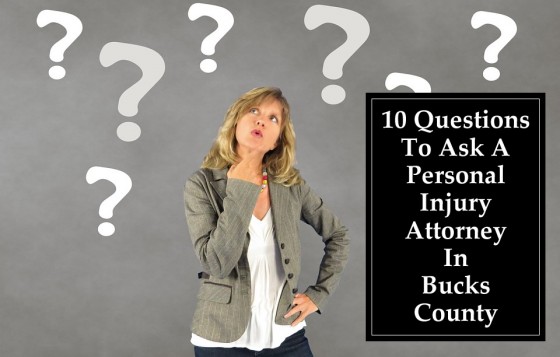 10 Questions To Ask A Personal Injury Attorney In Bucks County
1. What are their fees?
Don't be shy talking about money. It's much better to get this subject out in the open from the get-go. You'll be surprised to discover that many personal injury attorneys in Bucks County work on a contingency basis that requires no money out-of-pocket from you.
2. What happens if they lose?
Should your personal injury lawsuit result unsuccessful, what costs will be your responsibility? Most cases settle before reaching court, so your downside risk is minimal.
3. Do they have the time to devote to your case?
Find out if they are sitting on too many cases. Make sure they understand that you expect your case to move forward right away.
4. What experience have they had with cases similar to yours?
Have they gone to trial? What have been the results? Find out if their experience includes cases like yours.
5. Do their cases generally go to trial or do they settle more often?
It's important to find out if they are good negotiators and can work towards success for your case.
6. How much do they think your case is worth?
Do some research and don't fall for unreasonable, promised amounts.
7. Will they handle your case personally?
If they are part of a large firm, they may delegate your case to junior associates with less experience.
8. What is expected of you?
Are you going to sit in the sidelines or be an active participant? Your expectations have to match their explanations.
9. How much time fo they expect your case to take to be resolved?
It is not easy to give a precise answer to this question, but your lawyer's experience should allow them to give you a rough estimate of the time needed.
10. Is it possible to chat with previous clients?
As with any job, you need references for the person you are planning to have working for you.
Call a personal injury lawyer in Bucks County like the professionals at the Law Offices of Eugene Gitman today and get a free review of your case.