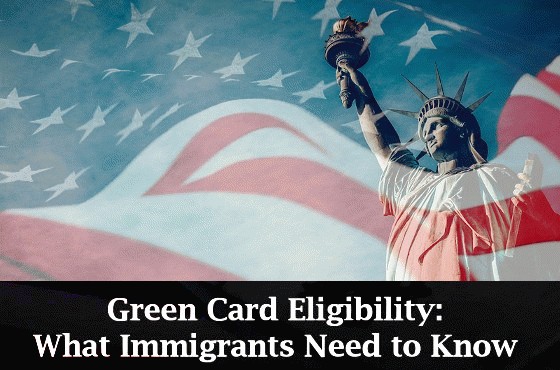 Becoming a permanent U.S. resident requires a thorough understanding of green card eligibility. Irrespective of an individual's origin or the compelling reasons to make the U.S. their new home, getting a firm grip on the diverse immigration routes available is crucial.
The journey may be complex, but every stride is a step closer to fulfilling the dream of holding a green card. This insightful exploration provides a clear road map for your journey.
Understanding Green Card Eligibility
To commence, it's imperative to delve into the basic requirements. One must satisfy specific criteria before even considering the application. It's important to note that U.S. immigration laws mandate the applicant to qualify under one of the categories established for green card eligibility. These categories encompass a broad range, such as employment-based immigration, family-sponsored immigration, and a host of specialized programs. Understanding these categories further will prove beneficial.
Employment-Based Immigration - This applies to individuals seeking to work in the U.S. It's important to note that a U.S. employer typically sponsors the immigrant applicant. As part of the employer's responsibility, they must demonstrate that hiring the immigrant will not result in a U.S. worker losing their job. However, there's a unique alternative: applying for an EB2 NIW visa. This pathway allows individuals to sidestep the job offer and labor certification requirement. It applies to professionals with exceptional abilities in arts, business, or sciences. It's also a perfect fit for pilots who demonstrate outstanding ability in their field or whose employment would greatly benefit the U.S.

Family-Sponsored Immigration - Shifting focus, it's time to explore family-sponsored immigration. In this situation, an individual needs a close relative who's a U.S. citizen or a lawful permanent resident. This relative could be a spouse, parent, child, or sibling. However, it's important to note that the relative must sponsor the individual and demonstrate their financial capacity to support them.

Specialized Programs - Don't fit into either of the categories above? No need to worry; there are still options available. A slew of specialized programs might be your saving grace. Take, for example, the Diversity Immigrant Visa Program, which grants green cards to individuals from countries with low immigration rates to the U.S. Or consider the U, T, and S visas for victims of crimes, human trafficking, and individuals assisting law enforcement, respectively.

Requirements for Obtaining a Green Card
Obtaining a green card is a significant step, and applicants must fulfill specific requirements to qualify. These vary depending on the individual's immigration category but typically include the following:
Sponsorship - Most green card applicants require sponsorship, usually from a U.S. employer or a family member who's a U.S. citizen or permanent resident. However, there are exceptions to these requirements. Asylum seekers or victims of crime, for instance, can petition for themselves.

Citizenship - The applicant must be a citizen of a country eligible for green cards.

Admissibility - Applicants must be admissible to the United States, meaning they should not have committed certain criminal offenses or pose health or security risks, among other reasons that could render them inadmissible.

Moral Character - Applicants must meet specific moral character requirements. These typically involve undergoing a criminal background check and the scrutiny of personal history.

Affidavit Of Support - Sponsors for most families and some employment-based immigrants must file an affidavit of support, proving their ability to support the immigrant financially.

Priority Date - A visa must be available in the category in which many immigrants are applying, dependent on the priority date, category, and country of origin.

Application Process - Adherence to the application process is crucial, including correctly filing the necessary forms, following all instructions, and attending all required appointments and interviews.

Physical Presence - For specific categories, the applicant may need to be physically present in the U.S. at the time of filing and decision on the adjustment application.

Immigrant Petition - An approved immigrant petition is a requirement in most cases before an individual can apply for a green card.
These requirements aim to adequately prepare immigrants for the responsibilities and privileges of U.S. permanent residency.
Benefits of Holding a Green Card
Obtaining a green card is a gateway to many benefits and privileges. It represents more than a mere change in status; it serves as a stepping stone toward building a new life in the U.S.
Here are some of its benefits:
The Right To Live And Work Permanently - Green card holders are granted the right to reside and seek employment anywhere within the United States, providing a wide spectrum of opportunities for personal and professional growth.

Unrestricted Travel - With a green card, individuals can travel in and out of the U.S. without restrictions.

Sponsorship Opportunities - Green card holders can sponsor their family members for green cards, allowing loved ones to join them in the United States.

Pathway To Citizenship - Green card holders can apply for U.S. citizenship after five straight years of residence.
These benefits create a fulfilling and rewarding life in the United States.
Understanding Conditional Residency
Conditional residency is an aspect of the green card process that individuals might need help understanding. In specific scenarios, such as recent marriage or entrepreneurship, the initial green card is provisional, lasting only two years. As this period draws close, the holder must apply to remove these conditions within 90 days before the card expires.
This phase necessitates careful planning and preparation, gathering substantial evidence like proof of a genuine marriage or a successful business. A timely and thoroughly prepared application can convert a conditional green card into a permanent one, marking a significant milestone toward permanent U.S. residency.

Final Thoughts
The path to obtaining a green card can seem like a labyrinth, but understanding your eligibility and available routes makes the process more navigable. By keeping these insights in mind, you equip yourself better to navigate the intricacies of U.S. immigration. Good luck on your journey!