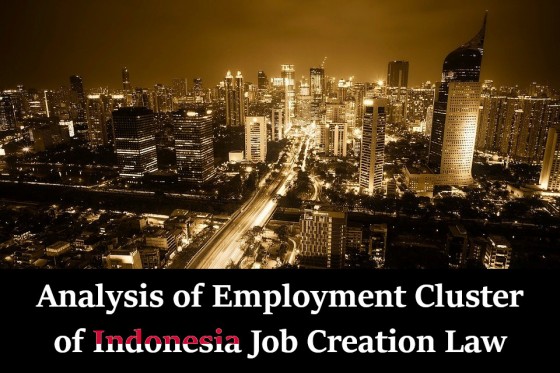 Law No. 11 of 2020 on Job Creation Law
~ Manpower ~
Manpower development should ideally focus on the interests of the workforce, nevertheless, it must also take into consideration the interest of economy, socio-culture, government, business actors, and the public. Manpower development that is in line with national development requires legislations that carry the values of justice, certainty and benefit.
For such purpose, the Indonesian Government has revised, removed, and stipulated several provisions of law and further divided such provisions into several clusters through Law No. 11 of 2020 on Job Creation ("Job Creation Law") enacted on October 2020.
This Legal Talks Article shall examine the Manpower cluster of Job Creation Law which initially regulated under the Law. No. 13 of 2003 on Manpower ("Manpower Law"), particularly the provisions relating to Job Training, Expatriates (TKA), Outsourcing, Employment Termination, Working Hours, Overtime, paid and unpaid leaves, salary, imposition of sanctions and employment contracts.
1. Job Training
The Manpower Law regulates matters concerning job training for employees, carried out by governmental institutions and/or private job training institutions. However, Article 13 of Manpower Law had been amended by the Job Creation Law by including a company job training institution. Therefore, there are 3 (three) job training institutions that are legally acknowledged.
Provisions relating to training implementation licenses are regulated under Articles 13 paragraph (4) and 14 paragraph (1) of Job Creation Law, as the following:
a. Article 13 paragraph (4) provides that government and private job training institutes must first be registered at the relevant institution in charge of Manpower at the regent or city.
b. Article 14 paragraph (1), (2), and (3) provides that the Business License for privately owned job training institution is issued by local government of the Regency/City, whereas for a foreign direct investment job training institution, its Business License shall be issued by the Central Government, through the fulfillment of norm, standard, procedures, and criterion required to obtain the Business Licenses as regulated by the Central Government.
2. Foreign Employees / Expatriates (TKA)
Generally, the previous Manpower Law Foreign provides that employer of expatries was required to obtain a Foreign Employee Permit (Izin Tenaga Kerja Asing or "ITKA") and Expatriate Manpower Utilization Plan (Rencana Penggunaan Tenaga Kerja Asing or "RPTKA"). However, subsequent to its amendment, Article 43 and 44 of Manpower Law are removed by Job Creation Law, and furtherly regulated under Government Regulation No. 34 of 2021 on Utilization of Expatriates ("GR 34/2021").
Furthermore, employment of a foreign employee / expatriates by individuals and appointment in positions relating to personnel are remains prohibited. In addition, several types of work that do not require RPTKA were added under the amendment of Article 42 paragraph (3) of Manpower Law. The requirement of assistance by an Indonesian citizen ("WNI") and job training for foreign workers pursuant to the amendment of Article 45 of Manpower Law are exempted for certain positions.
3. Employment Contract
The Manpower Law recognizes two forms of employment contracts, Fixed Term Employment Contracts ("PKWT") and Indefinite Employment Contract ("PKWTT"). The Employment Contracts may be prepared in bilingual, or at least it shall include the Indonesian language version. In the event of difference of interpretation, the Indonesian language version shall prevail.
In the amendments, additions and/or revisions have been included to provisions relating to PKWT and PKWTT. Among others, affirmation is made for the type of working relationship for PKWT, as follows:
a. Term based PKWT
Term based PKWT may be applied for jobs that are estimated to be completed within a short period (maximum 5 years); seasonal; or is associated with new products, activities, or additional products that are still under developmental stage.
b. Completion of a Specific Work
This category of PKWT is intended for works which are completed within a single process or works that are temporary by nature and is not limited by a specific time period.
Furthermore, the revisions to the Manpower Law continues to prohibit the use of PKWT for permanent positions. If the terms or conditions of a PKWT is not fulfilled, then by law the PKWT automatically becomes a permanent employment. Additionally, the prohibition of the probation period is removed, provided that the probation period is calculated as a working period.
4. Outsourcing
The Manpower Law regulates the assignment of certain portions of works to a different company in accordance to Articles 64, 65, and 66. However, the Job Creation Law removed the provisions under Articles 64 and 65 and further amended Article 66 of Manpower Law. This amendment affected the categorization for assignment of portion of works which initially categorized under two different types of work assignments, namely contract workers and services providers, are now combined under a single term: outsourcing company. The mechanism of outsourcing is now regulated under the Government Regulation No. 35 of 2021 on Fixed Term Employment Contract, Outsourcing, Working Hours, Employment and Rest Periods, and Termination of Employment ("GR.35/2021").
5. Working Hours, Overtime and Leave
Under the Job Creation Law matters concerning manpower, the working hours, overtime, rest period, and leave have been amended and/or expanded. Provisions concerning working hours as regulated under the Manpower Law have been revised to include a number of provisions which provides that working hours for specific business sectors or works may be regulated under an employment contract, company regulation, or collective employment contracts.
Provisions relating to overtime as stipulated under Article 78 of Manpower Law was amended. Where initially the maximum overtime for one week was 14 hours, it is now stipulated for 18 hours for one week.
Provisions regarding rest periods and leave as stipulated under Article 79 of Manpower Law had also undertaken revisions, which emphasizes on the employer's obligation to provide rest periods and leave. Rest periods between working hours, however, did not change significantly, as follows:
a. Rest between work periods after 4 consecutive hours of work. Such rest period is not counted as a work period.
b. Weekly rest is regulated as 1 (one) day for 6 (six) working days in 1 (one) week.
c. Annual leave is 12 (twelve) days after having worked for 12 (twelve) consecutive months and shall be stipulated under the employment contract, company regulation, or collective employment contract.
6. Wages
In the Manpower section of the Job Creation Law, a number of provisions have been amended and/or expanded. Among others, the Job Creation Law has removed the provisions concerning expiration period for claims of salary payments.
With regard to provincial minimum salary, the policy still states that the provincial minimum salary shall be determined by the Governor, including the minimum salary for regencies or cities. It is also worth noting the amendments on minimum salary for Micro and Small Enterprises. The determination of salary for Micro and Small Enterprises will later be based on an agreement between the employer and the employee. Provided that it is at least a certain percentage of the average public consumption based on statistical data from the competent institution.
7. Termination of Employment
Provisions regarding Termination of employment have also undergone several amendments. Among others, emphasizing the requirement for a Bipartite negotiation upon a rejection against the notification by the employer to the employee. Where if an agreement or settlement cannot be reached through such negotiations, the mechanism in accordance with Law No.2 of 2004 on Industrial Relations Dispute Settlement shall be applied. Reasons for termination as stipulated under the Manpower Law have been summarized and regulated under Article 154A of the Manpower section of the Job Creation Law.
With regard to termination of employment, it is worth noting the applicable severance schemes as follows:
a. Termination due to change in company status. Prior to the enactment of the Job Creation Law, an employee who was terminated for such reason would be eligible to receive 2 (two) times severance pay. However, such provision has been deleted under the Job Creation Law.
b. Termination of employment for any reason, in the amendment to the severance pay mechanism, the phrase " at least" under Article 156 has been deleted. This then give the interpretation that the severance pay granted does not appear to have double meaning with regard to the certainty of the phrase "at least".
8. Imposition of Sanctions
In relation to the provisions concerning sanctions, two types of sanctions are regulation, namely criminal sanctions and administrative sanctions. There are a number of additional provisions regulating the possible sanctions against an employer who fails to fulfil its obligations, including the mechanism for imposing sanctions, as follows:
a. The criminal sactions as previously provided are remain unchanged, specifically the imprisonment saction of 1-4 years and/or a minimum of fine in the amount of Rp.100.000.000 – Rp. 400.000.000; and
b. Administrative sactions which are furtherly regulated under Government Regulation.
**************************
Jakarta, 29 March 2021
MAGNUS LAW OFFICES
For further information please contact Pascal A. Hutasoit (pascal@magnuslaw.co.id) or Gilang Mursito Aji (aji@magnuslaw.co.id).
Disclaimer:
This publication is the property of Magnus Law Offices and may not be used by any other party for any purpose whatsoever without first obtaining prior written consent from Magnus Law Offices.
The information contained herein is for general purposes only and is not offered as legal or any other advice on any particular matter, whether it be legal, procedural or otherwise. It is not intended to be a substitute for reference to the detailed provisions of applicable laws, rules, regulations or forms. Legal advice should always be sought before taking any action or refraining from taking any action based on any information provided. Accordingly, Magnus Law Offices accepts no liability of any kind in respect of any statement, opinion, view, error, or omission that may be contained in this legal update.