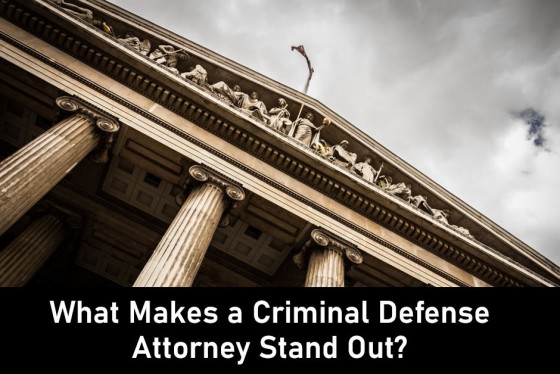 Your freedom can be on the line when you've been charged with a crime. You might be at risk of hefty fines, life-long restrictions, and lengthy prison sentences. When faced with such realities, it's crucial to seek high-quality legal representation. By doing so, you can be sure that you've done everything in your power to receive the best possible outcome.
However, there are likely to be several qualified, highly-regarded criminal defense attorneys in your area, making the decision-making process that much more challenging. You might be able to narrow down your options and choose with confidence if the available attorneys in your area have the following attributes.
A Firm Dedicated to Criminal Defense
When you're looking for a New Jersey criminal defense attorney, consider viewing various lawyer websites to learn more about the services each firm offers. Some law firms advertise a wide range of services to help people in various legal predicaments, while others only provide criminal defense.
By choosing a law firm specializing in criminal defense and no other areas of law, you can generally feel safe knowing that their time is entirely dedicated to cases like yours. Typically, criminal defense law firms offer representation for people facing a raft of charges like assault, federal crimes, weapons offenses, DWI charges, and more.
Years of Experience
If you have been accused of a serious crime like embezzlement, assault, robbery, or murder, you might be facing several years in prison if found guilty. While lawyers with a few years of experience will likely try their best to reduce your sentence or have your case thrown out, those with several years working on cases like yours might stand a better chance of success. As you start your hunt for the best criminal defense attorney, don't be afraid to look for information pertaining to experience levels. You may then have more confidence in your outcome.
Connections
Having criminal law connections can be crucial when your case gets underway. Experienced lawyers might be able to discuss your case with prosecutors and courts they've built up relationships with and fight for your right to a fair trial and possibly even a deal that works in your favor. These connections can be built over several years and are often specific to individual lawyers and law firms with years of experience in criminal law.
A Track Record
When you face the prospect of having to pay a large fine or spending time behind bars, it's only natural to want the help of a lawyer who has a good track record. Don't be afraid to ask about their experience levels with cases like yours and how they were able to bring them to a successful conclusion.
Many lawyers who boast impressive records will publish them on their websites, so you might be able to find the information you're looking for before you even contact a lawyer to have your case reviewed.
Effortless Communication
Not being able to talk to your lawyer when you need them the most can be one of the most frustrating experiences during legal proceedings. You might have a question you need to have answered quickly or a pressing concern or development that requires addressing.
If your attorney doesn't answer your phone calls, texts, or emails in a timely manner, it's easy to feel like your case isn't progressing or you're not getting the help you need for a successful outcome. Before hiring an attorney to represent you, discuss the type of communication you can expect.
They can tell you whether they prefer phone calls and emails and the frequency you can expect to hear from them. Some attorneys also rely on assistants so that even if you can't talk to them directly, you can receive reassuring words from someone on their behalf.
Free Consultations
As you begin compiling a list of criminal defense attorneys to potentially represent you in court, you might see mention of free consultations. These consultations allow you to meet an attorney and find out if they're a good match for you based on the facts of your situation.
Not all lawyers offer free consultations, so look for this information on law firm websites so you can know what to expect before you contact them. Otherwise, you may need to pay for the consultation as part of your entire legal package, which might be several hundred dollars per hour.
As time-consuming as it can be to choose a criminal defense attorney, it can be worth spending the time reviewing the many different law firms in your area. By doing so, you might have more confidence in your decision and a possibly better outcome than you could have hoped for.