It is a sad reality that those who are felons often live in rough neighborhoods. While they may be convicted felons, they still have needs such as safety. One can sympathize if such folks feel a handgun provides them such safety, or at least peace of mind.
On the other hand, our legislature has recognized that handguns and convicted felons is not a smart match. Some convicted felons do not have the education or vocational skills to find employment in socially acceptable forms. Instead, they do the only thing they know to do to survive: engage in more crime.
In May, 2007, Costa Mesa Police learned that Reno Sifuentes, a convicted felon, was renting a room in a Santa Ana motel. The motel was notorious for drug dealing and prostitution on its premises. Since police knew there was an "outstanding no bail" parole arrest warrant, police requested and received a master key from the motel to Sifuentes' room.
After knocking, requesting entry and not any response, but seeing the window blinds sway from movement inside, police entered the room.
Police found Sifuentes laying on the bed. His friend, Juan Lopez, was standing beside another bed several feet away. There were also two partially clothed women in the room.
Police held down Sifuentes and demanded that Lopez raise his hands. Lopez, also a convicted felon, raised his hands very slowly, while looking down at a mattress on the bed near him (not Sifuentes').
Police found a loaded .40 caliber semiautomatic handgun under the mattress, as well as methamphetamine and a pipe in Sifuentes' pocket.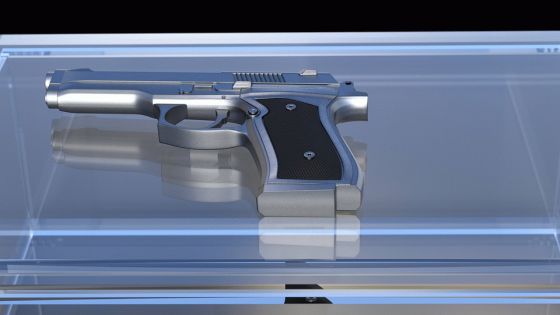 At trial, a gang expert testified that based on arrest reports and other police contacts over ten years, Sifuentes and Lopez were active member of Santa Ana's Dehli street gang. Under police questioning, Sifuentes had denied being a current member, saying he had "moved on." Lopez admitted such an association.
The gang expert also testified that "gang guns" are often shared among members "subject to certain restrictions."
The jury convicted Sifuentes and Lopez of violating California Penal Code 12021(a)(1), possession of a firearm by a felon, with a sentence enhancement under Penal Code 186.22(b)(1) for being in a gang member. Sifuentes was sentenced to twelve years; Lopez five.
Sifuentes then appealed his conviction (People v. Sifuentes (2011 DJDAR 7786)), claiming he did not have construction possession of the .40 caliber, as had been the prosecution's theory at the trial level. Sifuentes argued that the prosecution failed to prove he had "knowingly exercised a right to control" the gun either directly or indirectly through Lopez. Mere proximity, he argued, was not enough.
The Fourth Appellate District agreed, pointing out that the prosecution's gang expert did not testify that every gun owned by a gang member entitled every other gang member to share in its use. The gang expert also failed to rule out "certain restrictions" did not act to limit Sifuentes control over Lopez' gun.
Consequently, the Court reversed the jury's findings on the gun charge, as well as the gang enhancement, as it was based upon possessing the gun. Sifuentes was obviously a happy man.