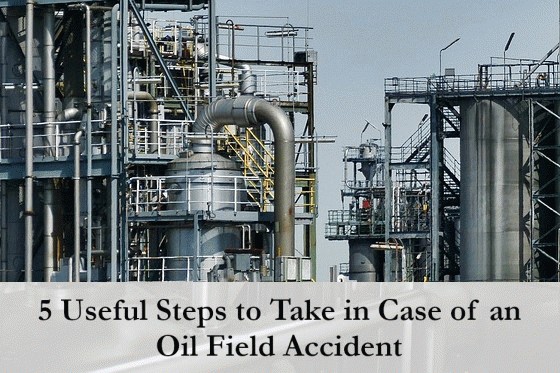 Oil fields can be dangerous places to work, and accidents do happen. While it is impossible to prevent every accident, there are steps that employers and employees can take to reduce the likelihood of an oil field accident occurring. In this blog post, we will discuss five useful steps that employers and employees should take in case of an oil field accident.
Make Sure There Are No Injuries
After an oil rig accident, you should prioritize your safety above everything else. As soon as possible after the oil rig accident, check for injuries to yourself and anyone else you can find. Get in touch with a doctor right away. You may have suffered inside wounds that aren't immediately apparent. It would be best if you got to the hospital right away.
Prompt medical attention after an accident also produces paperwork that can be used in personal injury litigation on the road. Safety measures on an oil rig can always be emphasized. Prepare for emergencies by stocking up on toolboxes, first aid kits, and safety equipment. Make sure to replenish any depleted stocks immediately. Since you're miles away from help, you need to always be ready for anything.
Go Somewhere Safe
Get to safety as soon as possible if you can walk away from the danger without worsening your injuries. Evacuate the rig if necessary; this will depend on the severity of the catastrophe. Some mishaps on oil rigs might trigger domino effects that lead to additional casualties and property loss. Take precautions, whether that means relocating to a less risky part of the rig or leaving it entirely.
It would help if you made workplace safety a high priority in their thoughts, words, and actions, especially on oil rigs. It is in everyone's best interest to constantly remind everyone on the rig, including subcontractors and employees, of the significance of a safe work environment, which involves adhering to all safety rules and regulations and being vigilant to prospective risks. It's also crucial to always know where things like fire extinguishers are stored in an emergency.
Get in Touch With a Lawyer
Injuries sustained in an oil rig disaster can be permanent and life altering. You should hire a lawyer specializing in oil field injuries if you are hurt in an oil rig accident. You must retain the services of a skilled oil field accident attorney after the incident. That attorney must have a track record of successfully defending clients hurt in oil rig accidents.
Only discuss your case in detail with an insurance representative, including your own, if you have legal representation present. They will watch out for your interests and ensure you don't say anything that could hurt your case or cause you to accept an unfair settlement. Your lawyers will resort to court if they cannot reach a satisfactory settlement with you through negotiation.
Contact Local Law Enforcement and Management
As soon as possible, call the police, or have someone else do so if you require medical assistance. Authorities can take photos, write a report, interview eyewitnesses, and compile other information that can be utilized in a personal injury lawsuit. Additionally, when workers are confident that management will listen to and address their concerns, fostering a culture that prioritizes safety is far simpler.
Employees who report potential dangers should be commended for their initiative rather than punished. When a potential safety concern is discovered, workers should have the option to stop what they're doing and report it. A "safety first" attitude means that stopping work to save a life always takes precedence over meeting a deadline.
Document Everything
If possible, taking your photos or videos of the oil rig accident scene is a good idea. Even though the police will make their accident report, keeping your records of what happened is still a good idea. Gather any evidence from the site that may be used in a future action for damages, including photos and videos, the contact information of those on the rig involved in or witnessed the accident, and so on. It can be quite helpful to have documentation to show how serious an accident or injury was.
Still, mishaps can occur despite everyone's best efforts to avoid them. Burns, bruises, broken bones, and spinal cord and head injuries are only some of the possible outcomes of an accident in the oil industry. Injuries sustained on an oil rig can have lifelong repercussions. In light of this, those who have been wronged on the job should receive full compensation for their losses, pain, and suffering.