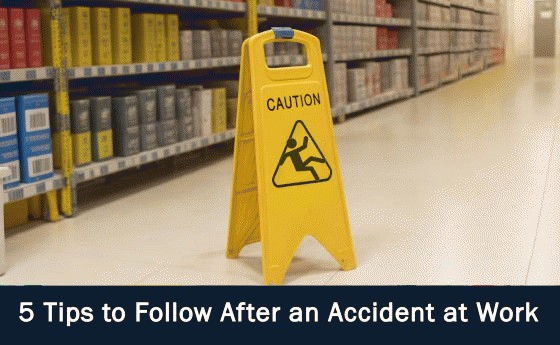 Being an injured victim of a workplace accident can be confusing and distressing. Aside from the injuries you sustained, you may have many fears and worries associated with what happened. More often than not, you also don't have any accurate information about the steps to be taken after getting involved in an accident at work.
Thus, if you suffer from a job-related injury, below are the five tips you should follow from the get-go.
1. Ask for Medical Assistance
Typically, workplace injuries can be serious. As such, you may need to seek immediate medical attention to get the proper treatment. By visiting the doctor, you'll be able to assess the extent and severity of your injuries and avoid making them even worse.
Also, when you consult a doctor following a workplace accident, you'll have quick access to medical reports, which play an essential role when filing workplace injury claims. If you don't get yourself treated, you'll have no sufficient proof of your injuries, and when this happens, you may potentially lose your right to recover compensation.
2. Notify Your Manager
When you're involved in an accident at work, don't commit the mistake of running away from the accident scene as it'll only increase your chances of being liable for what happened. For this reason, you should never forget to inform your manager about the accident, including your injuries. Doing so can make sure you're not violating your company's procedures about reporting your accident at work appropriately.
3. Gather Evidence
Taking photos or videos of the accident location can be vital, especially if there's a need to defend yourself from any malicious accusation your employer may make against you. If you want to make a compensation claim, you can use these photos or videos as pieces of evidence to prove that you've sustained injuries while at work.
As long as your employer will not punish you for using your phone, it's in your best interest to act as a crime scene investigator. By doing this, you can make sure that your dishonest employer will not try to fix the accident location as to hamper the workers' compensation claim you may make.
But, in case this unfortunate situation may happen, you may consider getting a workman's comp representation from a reliable lawyer who knows how to use your evidence to your advantage. They can help you fight your employer in their attempt to discredit your claim and shift the blame on you.
4. File an Accident Report
In order to be covered under workers' compensation laws, you need to file an accident report within the required deadline in your state. Since most states have short deadlines for this process, you should report any workplace accident you got involved in, whether you're injured or not.
Generally, filing an accident report plays a crucial role as it's one of the requirements for filing workers' compensation claim for your injuries. Without it, you may not be able to pursue your claim successfully and not get compensated for the injuries you've sustained at work. The report should include basic information, such as how the accident happened, the kind of injury you incurred, and the date and time of the accident.
On the other hand, even if you're not seriously injured in an accident at work, your decision to report the accident to your employer can encourage them to implement new safety measures and protocols that can help prevent the same accident from happening to you or anyone in the workplace.
5. File a Workers' Compensation Claim
Typically, the responsibility of filing a workers' compensation claim is vested upon your employer. In simple terms, a workers' compensation claim refers to an insurance coverage that any employer should have to help their employees recover compensation from work-related injuries.
Although it's your employer's obligation to expedite the filing process, it's also important that you understand your state's claim process for this type of case so you'll know what to expect. Also, given the different rules and factors to be wary of, filing a workers' compensation can be very complicated.
On the other hand, if you think there's something wrong with your compensation claim, you may have the right to dispute it. And, in case your employer's insurance company denies the claim, you may file an appeal. But, even if you can do the process by yourself, you shouldn't take your case in your hands. You should hire an experience lawyer who specializes in handling workers' compensation cases. With them by your side, you'll have a better chance of winning your case against your employer and their insurance company.
Bottom Line
Indeed, dealing with workplace claims can be tough if you don't know the steps to take after getting injured at work. But, by following the tips mentioned above, you can make the process much easier and faster. Lastly, the more you follow these steps, the more you become properly eligible for filing an accident-at-work claim.