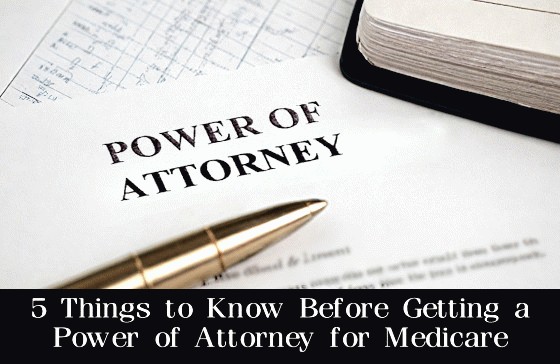 Medicare is health insurance from the U.S. government for seniors 65 years and older and others who qualify earlier due to disability. Many citizens who are already on Medicare or about to enroll in Medicare cannot make these decisions on their own. So how does a power of attorney help these beneficiaries? Keep reading to learn more about Medicare and power of attorneys.
What is a Power of Attorney?
Those incapable of making decisions on their own appoint a power of attorney. A power of attorney is a legal document that allows someone to designate a beneficiary to manage their property, financial decisions, and healthcare needs, such as enrolling in Medicare and a Medicare plan.
A few reasons someone might acquire a power of attorney could be due to dementia, Alzheimer's, illness, or disability. Suppose you become a power of attorney for a senior aged 65 years or older. In that case, you will want to understand how Medicare works and the Medicare plans offered to the Medicare beneficiary.
Original Medicare and Power of Attorney
When you're a power of attorney for someone nearing age 65, you'll want to be sure that you enroll the beneficiary on time, so they don't incur a late enrollment penalty. The time to apply for Medicare Part A and Part B through the Social Security office is during their Initial Enrollment Period (IEP). The IEP begins three months before their 65th birthday month and ends three months after their birthday (totaling seven months).
If they fail to enroll in Medicare during their IEP and aren't covered by active large employer insurance, they will be charged a life-long late enrollment penalty.
How Part A and Part B work
Medicare Parts A and B are the only insurance from the government. Medicare Part A covers inpatient care, such as room and board, meals, lab services inside the hospital, skilled nursing, hospice, and more.
When the beneficiary is admitted to the hospital as an inpatient, they are responsible for the Part A deductible, which is $1,600 per 60-day benefit period in 2023. After the Part A deductible is met, Part A will cover their inpatient care for up to 60 days. After day 60, they will be charged a daily copayment.
Medicare Part B covers all outpatient services, such as:
Doctor's visits

Emergency room visits

Durable medical equipment

Chemotherapy and radiation

Certain vaccines, such as pneumonia and influenza

Routine visits (mammograms, colonoscopies)

And more
When they receive an outpatient service not fully covered by Medicare, they will be charged the Part B deductible of $226 in 2023. After they pay the deductible, Medicare will begin covering 80% of Medicare-approved services, and the beneficiary is responsible for the 20% coinsurance.
Due to out-of-pocket costs, such as deductibles, copays, and coinsurance, many Medicare beneficiaries opt for a Medicare Supplement or a Medicare Advantage plan for cost-sharing help.
What to know about Medicare Supplements as a Power of Attorney
Private insurance companies sell Medicare Supplement (Medigap) plans. These plans work as secondary insurance to Original Medicare Parts A and B. Medigap plans do not have networks, so they can visit any healthcare provider across the U.S. that accepts Medicare and know that the doctor will accept the Medigap plan.
If Medicare pays out, so will the Medigap plan. But, if Medicare denies a service, the Medigap plan will not provide provider coverage. There are 10 Medicare Supplement plans on the market, each covering different services. Medigap premiums vary by the insurance carrier, so you will want to compare the top 10 Medicare Supplement companies in 2023 to find the most cost-effective premium for the beneficiary.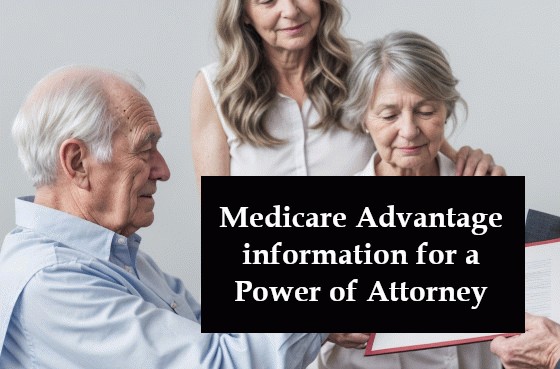 Medicare Advantage information for a Power of Attorney
Medicare Advantage plans are an alternative to Original Medicare sold by private insurance carriers. When someone purchases an Advantage plan, they will receive their Part A and Part B benefits through the insurance carrier and no longer through the U.S. government.
The plan will have a Summary of Benefits, which shows what the plan covers and at what cost. Advantage plans have a maximum out-of-pocket (MOOP) limit, the amount the beneficiary will pay out-of-pocket until the plan pays in to pay 100% of the costs. In 2023, the MOOP is set to $8,300, but the insurance carrier can charge a lower amount.
A perk Advantage plans offer are additional benefits, such as dental and vision coverage, which Original Medicare doesn't cover. Some plans also offer a Part B reimbursement, a flex card, and a gym membership. But, in exchange for these additional perks, the beneficiary will likely pay more out-of-pocket annually for their healthcare services.
What to know about drug coverage
Original Medicare and Medigap plans cover prescription drugs. You would need to purchase the beneficiary a Part D plan to have drug coverage. Part D plans are sold by insurance carriers and vary by zip code. If you were to go the Medicare Advantage route, most Advantage plans include a drug plan. So you wouldn't need to purchase an additional Part D plan.
Wrapping up
Being a power of attorney can be hard work, so you should become familiar with the different Medicare parts, plans, and enrollment periods to set them up for success. But you don't have to go at this alone. Reach out to a reputable Medicare broker for free Medicare help and guidance.