Articles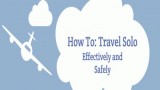 How To: Travel Solo Effectively and Safely
Travelling alone takes a brave soul. Our world consists of ancient buildings like the Great Pyramid of Giza where we have very little knowledge of how they managed to assemble such brilliance without the assistance of machinery and nature like...
By Oliver Birk
Travel Insurance - What Does It Cover?
Travel insurance, like all insurance policies, serves as a solution to most of your travel problems and the purpose is to help you in times of emergency. The price you pay for a travel insurance policy is based on your age, duration of travel and...
By Ching Wei Lee
Reasons for Unsuccessful Travel Insurance Claims
There are many reasons why your travel insurance claims may be unsuccessful. Below are some of the common reasons: Failure to notify the insurance company. The most important part of making a travel insurance claim is to contact your insurance...
By Ching Wei Lee