Now that a $70 million lawsuit has been settled holding Johnson & Johnson's Baby Powder responsible for causing a woman's ovarian cancer, mothers around the world are asking if baby powder is safe for use on their babies or if they should discontinue its use. Results of a recent trial found Johnson and Johnson guilty of negligence, fraud and conspiracy for failing to warn consumers of the health risks of using their baby powder. Mothers have used Johnson's Baby Powder for decades to reduce chafing and rashes that occur as a result of a baby's wetness and for diaper changing.
The American Academy of Pediatrics, an authority on baby issues, has for years warned mothers against the use of talcum powder on their babies and most pediatricians agree. The reason the Academy gives for the warning is different from the court findings that strongly suggest that long-term talcum powder use is likely to cause ovarian cancer in women who use it for feminine hygiene purposes. The Academy is more concerned that babies can inhale the small airborne particles during the application of the powder. Once inhaled, very small particles can become lodged in or otherwise clog or harden the lung's mucous membranes causing the baby difficulty breathing and respiratory distress from disrupted airways.
According to an article that was written by Dr. Weil on his website over the years, several babies have developed pneumonia and died from respiratory illness as a result of breathing talcum powder particles. Dr. Weil also states that cornstarch is not much better and becomes airborne during its application. Cornstarch particles are bigger and are not as easily airborne but can be inhaled nonetheless. Infants recovering from RSV and those with asthma are particularly vulnerable to respiratory complications caused by inhaling the particles.
Given the Academy's warning, Dr. Weil stops short of recommending baby powder's discontinued usage. Instead he recommends that baby powder not be directly sprinkled from the container onto the baby's body and that its application on the body be kept as far away from the baby's face as possible. If you must continue to use talcum powder put a small quantity on your hand away from the child's face and then slowly apply it to the child so as not to cause a cloud of dust. Dr. Weil recommends that you could also substitute over-the-counter creams, ointments and petroleum jelly for talcum powder to prevent or treat diaper rashes and chaffing.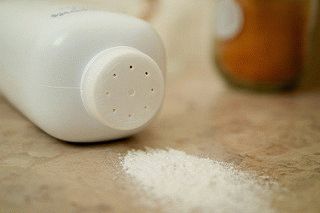 The question still stands for many in regards to ovarian cancer risk from regular use of talcum powder. According to the American Cancer Society studies have shown an increased risk of ovarian cancer yet some studies show no increase. However, many studies in women also suggest that the regular use of talcum powder may be linked to ovarian cancer and other types of cancer. The American Cancer Society also states that if the powder has been applied to the genital area the talcum powder could travel through the vagina, uterus, Fallopian tubes and to the ovaries.