If you are looking for a great way of bringing together like minded people within an industry to discuss, debate and spark new ideas then the best way of doing this is by organising a speakers conference. Not only are they informative events, but they also provide a useful venue where attendees can make new contacts as well as strengthen already long-standing business relationships. A speakers conference has the added benefit of furthering the reputation of any company or non-for-profit organisation. It doesn't matter what size your conference is or whether it is local, national or international - the most important aspects you need to pay attention to are those of preparation and attention to detail.
You should begin by setting up a planning committee. If you anticipate that your conference is going to have a large number of attendees then you should ideally start planning a year in advance prior to the date of the event. Typically, a planning committee will consist of individuals whose expertise are particular to those being discussed at the conference. Amongst the committee members there should be an event specialist, or a staff member who's sole purpose will be to coordinate the logistics of the conference. The rest of the committee members will decide on the conference name, subjects to be discussed, event dates, duration of the conference, entrance fee, audience size and finally - inviting speakers to come and talk.
Before any of these tasks can be organised, a budget must be settled upon. You should take into account the following costs: venue hire, audio and visual equipment, catering, fees for speakers as well as lodging and travel, marketing, conference materials and any entertainment.
In terms of potential venues to host the conference you have plenty of options. Hotels are usually a good option as staff will be used to hosting such events and will often have appropriate facilities available for conferences of all sizes. Be wary that the most popular hotels will be booked a year in advance so make sure that you plan accordingly.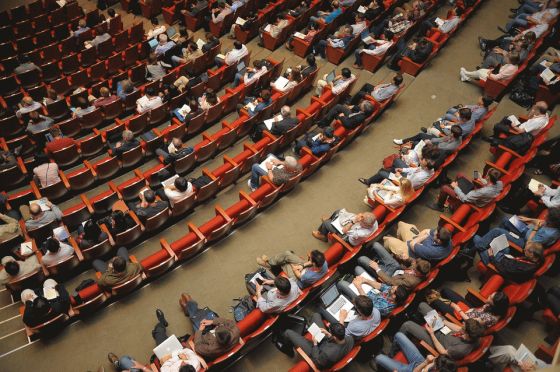 When you are getting in touch with your speakers find out what the title of their talk will be and see if they can send you short summaries of the content. You should also advise speakers of the event logistics and see if they have any particular requirements in terms of equipment for their talks.
Participants for the event should be able to register their interest and pay for tickets online so it's important that you set up a website that will enable them to do this. Attendees should be given the option to be able to pay via credit card or via mail.
You should start marketing and advertising your event at the earliest possible opportunity, especially if you need to attract a large number of attendees. Consider both digital and print marketing for your advertising and try to set up a mailing list so that key figures and trend setters within your industry can be informed.
On the day of the event there should be a check-in for attendees, appropriate conference materials, a message centre and suitable event staffing. Make sure that there is an event organiser on hand at all times who will be able to answer questions from attendees and speakers.
Once the conference is finished, have some sort of feedback system in place. This could be an online questionnaire or it could be a feedback sheet that attendees fill in so they can rate the quality of the event.