How do I install a software?
After you download a program, proceed by opening your download folder and locate the installer file. The most common types of installers for Windows are available in .exe and .msi formats.
Note: You will find most files downloaded from the Internet are in archive formats (.zip, .7z, .rar). The data is being compressed to consume less storage space and results in quicker download times as the same data is represented by fewer bytes.

For a program to run properly, you need to first extract or unzip all files to restore its original state. Windows has a built-in Compressed Folders feature. Go to your Downloads directory and locate the downloaded file and extract the entire contents of the compressed folder. Right-click the folder, click Extract All, and then follow the instructions.
Double-click on the installer to start the setup program.
Follow the instructions on the screen, if any, to complete the installation.
When Security Warning dialog box appears, click Run if you trust the content from the software publisher. The Security Warning dialog box is displayed because the file is downloaded from the Internet.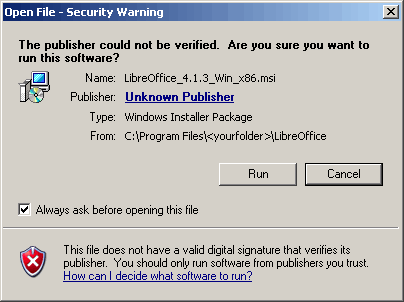 After installation is complete, you may see a message telling you that your PC needs to restart. Before you restart your PC, save your work and close any desktop apps to make sure you don't lose anything.
Most of the time, an installation also creates shortcuts in the Start screen, Start menu and often your Desktop for quick access to the installed program.