LAWYERMENT ANSWERS HELP
How does the private messaging system work?
Lawyerment Answers allows its registered users to communicate privately by using private messages, without exposing their email address. You can only send private messages to people in your friends list. Messages you send and receive can only be viewed by you and the user you are corresponding with.
At the top right of Lawyerment Answers is a welcome message that reads Logged in as.... The drop-down menu shows the number of new messages in your Inbox, if any. Clicking the message link will take you to the Inbox of your account.
Here's how it works:
How do I send a friend request?
Go to the user's profile.

Click the Add Friend button. You might not see this link on some people's profiles, depending on their privileges.
Once this person accepts your request, they'll show up in your friends list.
How I accept a friend request?
Hover over Logged in as... at the top of any Answers page to see if you have new friend requests.
If you see notification of new friend requests, click Friend Requests to see a list of all friend requests received.

Find the request you'd like to approve and click Approve Friend Request.
Where can I see friend requests I've sent?
Click Answers Profile at the top of any Answers page.



Click Private Messaging



Click Friend Requests Sent
How to send a message?
Go to your Answers Profile.



Click Private Messaging.



Click Friends and select the person you want to message.



Compose your message and click Send.
You can also message someone by clicking on Send a Private Message button on their profile.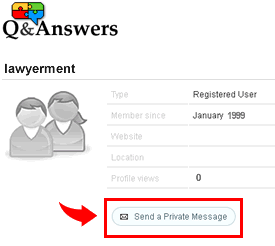 Limitation
We do not intend to make private messaging too aggressive since Lawyerment Answers is about the questions and answers, not social networking.
You are allowed to have 200 private messages in your allotted space. It is inclusive of all sent and received messages.
Is 200 messages enough for a user? The answer is quite subjective. If you do not interact much, and keep to yourself and don't make many friends, then 50 is more than enough.
When your message box is full, you will not be able to send or receive new messages until you delete some first.