Malaysian Immigration Control Status Checking
Malaysian Immigration Control Status Checking
is a travel blacklist status checking system by the
Immigration Department of Malaysia
.
The official website of
Malaysian Immigration Control Status Checking
enables Malaysian to check their immigration status and restrictions on application for passport and traveling overseas.
Simply enter your MyKad or identity card number and click on the
Semak
or Check button.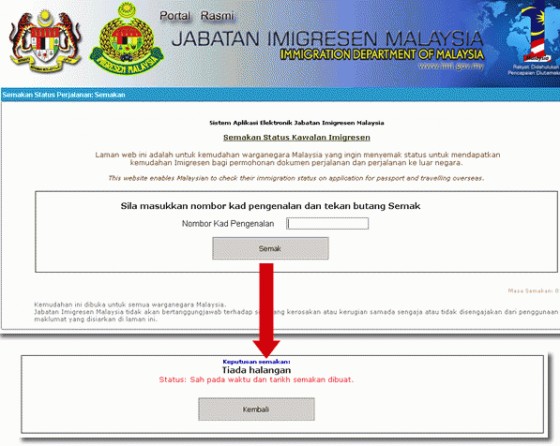 Screenshot of Malaysian Immigration Travel Blacklist Status Checking System
If you are not blacklisted by the Immigration Department of Malaysia and not placed under a stoppage order, the result produced will be:
Tiada halangan
.
However, the result is only valid at the time and date the search is conducted.
You should check your status before going through the check-in system at any international airport in Malaysia.
If you are blacklisted you will be required to contact the Immigration Department of Malaysia to get the name of the blacklisting agency to solve the problem.
Here is the list of the top blacklisting agencies in Malaysia:








Address:
Headquarters

Immigration Department Malaysia
Level 1-7 (Podium) No 15,
Persiaran Perdana,
Precint 2,
62550 Putrajaya,
Malaysia
Notes:
Available in Malay version only.
Website:
sspi2.imi.gov.my/
Share this page
Notes
Keywords
:

check travel blacklist

travel ban

travel restrictions

Guide ID: 2965 -

Last Updated: May 2, 2019