Perumahan Rakyat 1Malaysia Corporation
or
PR1MA Corporation Malaysia
(Malay:
Perbadanan PR1MA Malaysia
), abbreviated
PR1MA
, was established under the Perumahan Rakyat 1Malaysia Act (PR1MA) 2012 [Act 739] to develop and construct housing accommodation under the
Perumahan Rakyat 1Malaysia
programme for middle-income households in urban areas in Malaysia.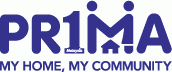 PR1MA Logo
Perbadanan PR1MA Malaysia
is gazetted as a government owned corporation on December 19, 2012 under the
Ministry of Housing and Local Government
.
PR1MA Berhad
is an entity established to set up PR1MA Corporation Malaysia. Both are separate entities.
Perbadanan PR1MA Malaysia
began operations on March 12, 2013.
Subsidiaries of PR1MA Corporation Malaysia are:
PR1MA Asset Management Sdn. Bhd. - To manage completed PR1MA homes and complexes.
PR1MA Development Sdn. Bhd. - To develop and construct PR1MA homes and complexes.
PR1MA Communications Sdn. Bhd. - To provide telecommunication services and information technology for the development of PR1MA homes and complexes.
PR1MA homes are priced between RM100,000 and RM400,000. PR1MA terrace house is approximately between 850 sq ft and 1,850 sq ft while PR1MA apartment unit is between 600 sq ft and 1,200 sq ft.
Eligibility to purchase PR1MA Homes:
Malaysian citizenship;
Aged 21 or over;
Individual or combined household income level between RM2,500 - RM15,000 monthly; and
property ownership of no more than 1 property between the applicant and spouse (if any).
You need to register online via the official website and apply to purchase a PR1MA home.
PR1MA homes are allocated to eligible persons by way of an open ballot after which you'll be invited for a unit selection session based on availability.
Financing:
PR1MA offers 4 types of financial solutions to home ownership:
End-Financing from panel banks
Rent-To-Own Scheme
Care by PR1MA, an insurance coverage for home buyers
Skim Pembiayaan Fleksibel (SPEF)
Rules and Regulations:
You are not allowed to sell or transfer the property to another party within 5-year period.
You are not allowed to rent-out the property. You must be the owner-occupant.
PR1MA has the right to repurchase any PR1MA home from the owner if the owner:
breach any rules or regulations relating to PR1MA homes,
fails to pay any money due to PR1MA,
made misleading or false statement in the application, or
no longer a citizen of Malaysia.
The official website of PR1MA features details of listed properties including floor plan, unit sizes and types, location, brochure and ballot result.
Properties are categorized by geographical regions in Malaysia: Central, Southern, Northern, Eastern, Sabah and Sarawak.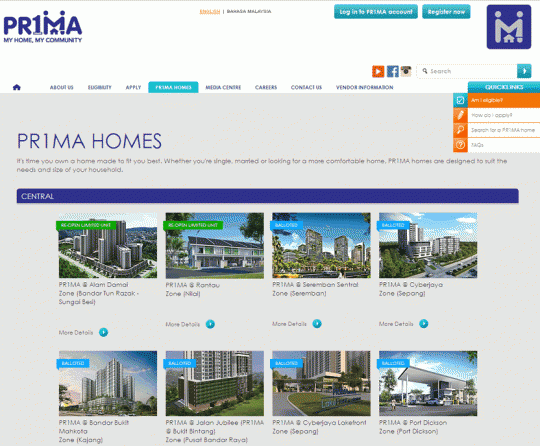 Screenshot of PR1MA Homes
Address:
Head Office:

Perbadanan PR1MA Malaysia
7th Floor, Block F
No. 2, Jalan PJU 1A/7A
Oasis Square, Ara Damansara
47301 Petaling Jaya
Selangor
Malaysia

Sarawak 0ffice and Sales Gallery:

PR1MA
Ground and 1st Floor, Sublot 7, Survey 7
Survey Lot 13766
Section 65 Kuching Town Land District
93050 Kuching
Sarawak
Malaysia
Facebook:
https://www.facebook.com/PR1MAHomes
Website:
www.pr1ma.my/