HOMEDEC
HOMEDEC
is Malaysia's renowned home decor exhibition, organized by
C.I.S Network Sdn. Bhd.
, twice every year and will be held in Kuala Lumpur, Penang, Johor Bahru, Kuching and Kota Kinabalu.
HOMEDEC exhibition provides insights and ideas into the latest home designing trends and home products for Malaysians to apply to their homes. The exhibition is now a household name among Malaysians looking to renovate, refurbish or redecorate their homes.
HOMEDEC was first launched at Mid Valley Exhibition Centre, Kuala Lumpur in 2003.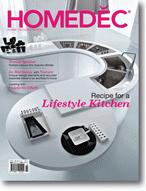 HOMEDEC Magazine - Home Decor Trends
HOMEDEC Magazine
(Home Decor Trends), an official publication of HOMEDEC, launched in 2008, is a quarterly magazine jointly published by C.I.S Network Sdn. Bhd and MPH Magazine Group Magazine (M) Sdn. Bhd. The magazine provides readers with the latest home design solutions, decoration, renovation, current styles, ideas and tips for good living. This award-winning magazine is a big hit at HOMEDEC exhibitions. It is also made available through a vast distribution channel and affiliated newsstands nationwide.
The official website of
HOMEDEC
features:
for Visitor
Exhibitions;
Publication;
Home Ideas & Solutions:


Renovation Guide: Choosing colours; Essential tips; Should I consult an interior designer
Living Room: Planning; Wallpaper; Furniture
Bedroom: Wardrobe space allocation; Decor & light ways
Kitchen: Decoration ideas; Appliances; Zone planning
Dining Room: Dining etiquette; Proper sequence of wine serving; Enhancing tips; Creating harmony space
Bathroom: Basics, trends & quickies; Creating bathroom bliss; Transform bathroom into a spa
Kids Living
Garden & Outdoor: Lighting & maintenance tips; Outdoor dining checklist
Home Safety: Essential items for a safe home; Is your home a health hazard
Soft Furnishing: Choose the right curtains; Ways to clean the curtain; Window fashion for your home
Others: The art of green cleaning; Start to spring clean



for Exhibitor
Booth Details; Application Form
Share this page
Notes
Guide ID: 3250 -

Last Updated: June 14, 2014