GETHA Bedding (M) Sdn. Bhd.
GETHA
is a Malaysian brand name established in 1998. The name GETHA originates from the Malaysian native word for rubber 'getah'.
GETHA mattresses and bedding products are manufactured by
WeiFong Industries Sdn. Bhd.
using 100% pure natural, high quality latex from Malaysia. WeiFong Industries Sdn. Bhd. was incorporated in 1969.
GETHA products are marketed in Malaysia through
GETHA Bedding (M) Sdn. Bhd.
with distribution network nationwide.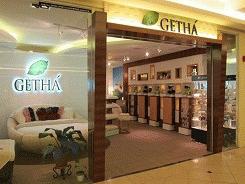 GETHA Mattresses and Bedding Products
GETHA is manufactured with the Dunlop technology process and its latest European automatic foaming machine and automated line. GETHA products are made in conformance to international specifications and has received accreditations from ECO Umweltinstitute, Germany, Oeko Tex, Switzerland and the world renowned Malaysia Rubber Board.
GETHA has authorized dealers throughout Malaysia. GETHA Sleep Therapy Centers, a program to introduce a therapeutic sleep ambiance have been opened in various strategic locations throughout Malaysia.
Latex form mattresses are non-toxic, environmentally friendly, fully sanitized and are natural anti-bacterial and anti-fungal therefore are non-allergenic and do not need sunning.
GETHA product ranges are:
Dream Kingdom
This complete bed set is ergonomically longer, thicker, and higher than conventional beds.
Green Icon
Individually hand-made with dual-sided Anti Static Protection (ASP) and Nano Silver Technology.
Transforme Series
Pressure relief with Anti-Static Protection (ASP) infused with Bamboo Charcoal Yarn and Nano Ag Technology
ECO Kingdom Series
Designed for comfort - from body crading conformance to deep down orthopedically correct skeletal support.
Other Products:
Togetha Series, Inner Green or FHD Series, Baby Series, Round O Bed, Adjustable Bed, Pillows & Bolsters, Topper.
Share this page
Notes
Guide ID: 3248 -

Last Updated: June 14, 2014