IKEA Malaysia
In 1996, the first IKEA store opened at Mutiara Damansara, Malaysia.
IKEA Malaysia offers a wide range of well-designed, functional home furnishing products. IKEA store is franchised by Inter IKEA Systems B.V. of the Netherlands. IKEA products are sold solely in stores operating the IKEA Retail System.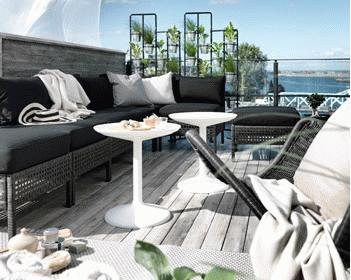 Stretch out and feel the sunshine. With weather-resistant cushions and durable, maintenance-free seating the only thing you have to worry about is finding your zen.
More than 2,000 suppliers in over 50 countries manufacture IKEA products. The profile of the well-designed and high quality range is distinctively Swedish or Scandinavian.
IKEA Home Furnishing consultants are available to help with free ideas and advice for your home.
IKEA catalog is mass-distributed annually in the area around each IKEA store. The catalog offers a glimpse of the diverse IKEA product range and solutions and creative approaches to help inspire home furnishing ideas for better living.
The official website of IKEA Malaysia features:
Online Shopping
Find products by name
Galleries of ideas
Limited Time Deals
Even Lower Prices (ELP)
Shop by Departments:
Bathroom, Bedroom Children's IKEA, Cooking, Decoration, Dining, Eating, Hallway, Kitchen, Laundry, Lighting, Living room, Outdoor, Secondary and small storage, Textiles, Workspaces, For business and Summer.
Kitchen:
Kitchen cabinets & fronts, Interior fittings, Free-standing kitchens, Modular kitchens, Worktops, Taps & sinks, Wall storage & panels, Kitchen islands & trolleys, Step stools & step ladders, Knobs & handles
Living Room:
Sofas & armchairs, TV & media furniture, Living room storage, Coffee & side tables, Living room lighting, Living room textiles & rugs
Bedroom:
Mattresses, Bed frames, Wardrobes & bedroom storage, Bedroom lighting, Bedroom textiles & rugs, Mirrors
Storage:
Storage systems, Clothes storage system, Pantry, Wall shelves, Racks & stands, Small storage, Tools & fittings
Summer:
Cooking & eating, Decoration, Textiles, Outdoor plant pots & plants, Decorative lighting
Share this page
Notes
Guide ID: 3244 -

Last Updated: June 12, 2014