Malaysian Electronic Payment System Sdn Bhd (MEPS)
Incorporated in December 1996 and owned by a consortium of local financial institutions. MEPS provides shared banking services for ATM network, inter-bank GIRO, e-commerce gateway and inter-bank electronic cash payment. MEPS is the only interbank network service provider in Malaysia that supports domestic, development, Islamic and foreign banks.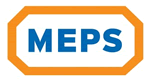 MEPS Logo
MEPS products and services include
MEPS ATM
, Shared ATM Automated Teller Machine Network, Smart Card Services, MEPS CASH, Interbank Fund Transfer (IBFT), Cross-Border Cash Withdrawal and Interbank Mobile Prepaid Top-Up.
Smart Card Services
The chip-based Payment Multi-purpose Card (formerly Bankcard) was launched in early 2003 to replace the magnetic stripe ATM cards nationwide. Bankcard enables Malaysian to do banking, shopping, payments and many more using a single card.
Interbank Fund Transfer (IBFT)
Formerly MEPS Interbank GIRO (MEPS IBG). Interbank Fund Transfer (IBFT) is an inter-bank fund transfer system that facilitates payments and collections via the exchange of digitised transactions between banks real-time and online.
Cross-Border Cash Withdrawal
MEPS initiated cross-border ATM links to several countries in the region namely Indonesia's PT Artajasa Pembayaran Elektronis (ARTAJASA) and PT Rintis Sejahtera (Rintis), Singapore's National Electronic Transfer Pte Ltd. (NETS), Thailand's National ITMX, Vietnam's Vietnam National Financial Switching Joint-Stock Company (Banknetvn), China's China UnionPay and South Korea's Korea Financial Telecommunications and Clearings Institute (KFTC). This service offers participating banks' customers the convenience of making cash withdrawals via ATM in the said countries.
Address:
Malaysian Electronic Payment System Sdn Bhd
MEPS@Horizon
Tower 5, Avenue 3, Bangsar South
8 Jalan Kerinchi
59200 Kuala Lumpur
Phone:
1-800-18-MEPS (6377)
Website:
www.meps.com.my/
Share this page
Notes
Keywords
:
Guide ID: 2790