Employees Provident Fund (EPF)
is officially known as the
Kumpulan Wang Simpanan Pekerja (KWSP)
in Malay language.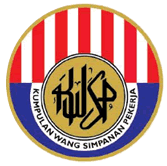 Logo of Kumpulan Wang Simpanan Pekerja (KWSP)
Employees Provident Fund (EPF) is one of the oldest retirement funds in the world. It was established in 1951 as a national social security institution under the
Employees Provident Fund Ordinance 1951
to provide retirement benefits for members in West Malaysia through management of their savings in an efficient and reliable manner. It was placed under the purview of the
National Director of Posts
.
During that time, EPF was only a mandatory savings scheme for employers with five (5) or more persons, through which both employees and employers contributed a fixed percentage of the employees' monthly salary into the employee's account in the EPF.
In 1958, the
Employees Provident Fund Board
took over the administration of the Fund from the National Director of Posts. The Board is a government-owned corporation under the
Ministry of Finance
.
In 1963, the EPF Ordinance 1951 was amended to cover employers who employ at least three (3) persons.
In 1968, the EPF Ordinance 1951 was once again amended to provide the withdrawal of one-third of a member's savings upon reaching age 50 to assist in purchasing a house and preparing for retirement.
The EPF extended its coverage to include East Malaysia in 1969.
In 1977, the EPF Ordinance 1951 was amended to allow self-employed an option to contribute to the Fund.
On July 22, 1983, the EPF Ordinance 1951 became the
Employees Provident Fund Act 1951 [Act 272]
which was subsequently repealed by the
Employees Provident Fund Act 1991 [Act 452]
to liberalise investment regulations and enhance the withdrawal schemes while facilitating enforcement.
In 2000, EPF introduced the Education Withdrawal Scheme and the Pensionable Employees Withdrawal Scheme.
A Call Management Centre (CMC) was set up in 2003 as a one-stop customer service centre in the Kuala Lumpur office.
In 2004, e-kiosk which allows members to print their account statements and registering their i-Akaun using their MyKad, was set up at 13 states and 28 branch offices nationwide.
In 2007, EPF members' accounts were restructured from three to two, being
Account I
and
Account II
, where Account I is restricted to withdrawal upon reaching the age of 55 while withdrawal from Account II is allowed for certain amount under approved schemes. The Flexible Age 55 Withdrawal Scheme was also introduced to encourage members to withdraw their savings periodically over a longer period.
Two years later, EPF introduced the Anti-Fraud and Whistleblowing policies.
In 2013, EPF introduced:
e-Caruman, an online facility for employees to remit contributions through i-Akaun.


e-Pengeluaran, an online withdrawal applications through i-Akaun.


Effective April 1, 2014, employers with more than 50 employees are required to submit their monthly contributions online via the e-Caruman facility. The manual Form A would no longer be sent to them.
Employees Provident Fund contribution is now mandatory for all private and non-pensionable public sector employees and employers in Malaysia. It is voluntary for non-Malaysian citizens employed and staying in Malaysia legally.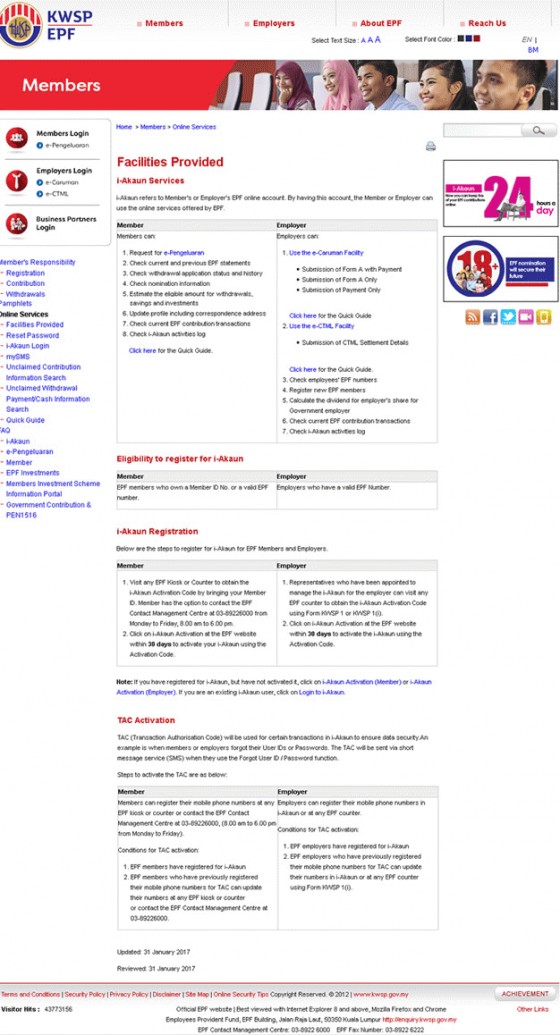 Screenshot of Kumpulan Wang Simpanan Pekerja (KWSP)
The official site of
Kumpulan Wang Simpanan Pekerja (KWSP)
features:
e-Pengeluaran for Members


e-Caruman and e-CTML for Employers


i-Akaun for Employers and Members to securely conduct EPF transactions online


Members: Responsibility, Pamphlets (Age 50, 55 and 60 years withdrawal, Withdrawal to reduce housing loan or purchase a house, leaving country withdrawal, health and death withdrawal, Incapacitation withdrawal), Online Services (Unclaimed contribution info search, Unclaimed withdrawal payment or cash info search) and FAQs


Employers: Responsibility, Pamphlets (Employer's Guide Book), Online Services and FAQs


Directory of EPF Branch Offices and Kiosks Location


Address:
Head Office

Employees Provident Fund Board
Lembaga Kumpulan Wang Simpanan Pekerja
Bangunan KWSP
Jalan Raja Laut
50350 Kuala Lumpur
Malaysia.
Phone:
+6 (03) 8922-6000 (Contact Management Centre (CMC))
Facebook:
http://www.facebook.com/profile.php?id=285352233398
Twitter:
http://www.twitter.com/KWSPBuzz
Notes:
Official website available in English and Malay versions.

CMC operates Monday to Friday, 8.00 am to 6.00 pm. It is closed on Saturdays, Sundays and Federal and Selangor public holidays.
Website:
www.kwsp.gov.my/