Malaysian Bar
The
Malaysian Bar
(Malay:
Badan Peguam Malaysia
) is the professional body, established under the Legal Profession Act 1976 to regulate and represent the legal profession of advocates and solicitors in Peninsular Malaysia.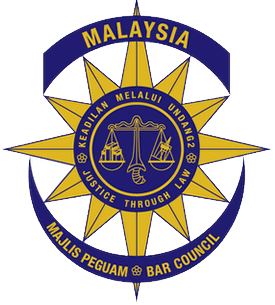 Coat of Arms of the Malaysian Bar
It promotes the interest of the legal profession in Malaysia, uphold the cause justice for all uninfluenced by fear or favour, the highest standards of ethics and diversity across the profession and the development of good relations with other legal professional bodies at home and abroad.
The legal profession of Malaysia is a fused profession as there is no distinction between and an advocate and a solicitor.
Bar membership is mandatory. Every advocate and solicitor holding a valid practising certificate is automatically a member of the Malaysian Bar.
The
Bar Council
, known as the
Majlis Peguam Malaysia
in Malay term, is the central council of the Malaysia Bar established to manage the affairs of the the Bar for proper performance of its functions.
The Bar Council comprises thirty eight (38) members who are elected annually to manage the affairs and execute the functions of the Malaysian Bar.
Separate bodies regulate the legal profession in East Malaysia. The bar association in Sabah is known as the
Sabah Law Association (SLA)
whereas in Sarawak, it is known as the
Advocates Association of Sarawak (AAS)
.
The official website of the
Malaysian Bar
features:
About the Bar Council, Bar Council Secretariat and Library


Membership (Sijil Annual, Pupillage, Starting a New Practice, Admission)


Legal Directories (Find a Lawyer or Law Firm, Notaries Public, Commissioners for Oaths, Legal Aids Centres, Malaysian Mediation Centre (MMC), Register of Mentors, Seniority List)


General Statistics and Number of Law Firms and Lawyers by State


Governing Laws, Bar Council Rulings and Practice Directions


News and Notices


Resources for Foreign Lawyers


Public Awareness




Screenshot of the Malaysian Bar
Address:
Malaysian Bar Council
No. 15,
Leboh Pasar Besar,
50050 Kuala Lumpur,
Malaysia
Phone:
+60 (3) 2050 2050
Notes:
Website available in English version only.
Website:
www.malaysianbar.org.my/
Share this page
Notes
Keywords
:

majlis peguam malaysia

badan peguam malaysia

malaysia

bar council malaysia

malaysian bar

Guide ID: 1 -

Last Updated: November 20, 2017