The
International Monetary Fund (IMF)
, also known as the
Fund
is an international organization established in 1945 to foster global monetary cooperation, facilitate international trade, foster sustainable economic growth, make resources available to member countries experiencing balance of payments difficulties.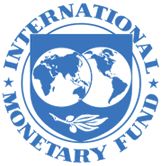 Logo of the International Monetary Fund (IMF)
The International Monetary Fund (IMF) was conceived in 1944 at a United Nations conference. It has only 29 member countries when it came into existence in December 1945. The IMF is now governed by its 189 member countries.
The IMF is mainly funded through a quota system where each member country is assigned a quota based on its relative size in the world economy. The voting power of a country in the IMF is also based on the quota system. The IMF accepts gold as payment by member countries but it is prohibited from buying gold or engaging in other told transactions. It is one of the world's largest official holders of gold.
The International Monetary Fund (IMF) is headquartered in Washington D.C., United States.
When IMF was founded, its primary purpose was to ensure stability of the international monetary system, which are the system of exchange rates and international payments that enables countries to transact with each other. The IMF's role was altered to include all macroeconomic and financial sector issues that bear on global stability.
The fundamental mission of the IMF is to ensure the stability of the international monetary system by:
Surveillance: Keeping track of the global economy and the economies of member countries
Lending: Lending to countries with balance of payments difficulties
Technical Assistance: Providing practical help to member countries
Popular time series data sources and publications of the IMF include the World Economic Outlook, Global Financial Stability Report, Fiscal Monitor Analytical Chapter, Regional Economic Reports, IMF Date Mapper, IMF Finances and SDRs per Currency Unit.

Screenshot of the International Monetary Fund (IMF) Website
The official website of the
International Monetary Fund (IMF)
features:
Research: Global Analysis; Data Visualization; Working and Departmental Papers; Research Bulletin; Economic Review; Commodity Prices
Reports and Publications by Country
Data and Statistics
Social Media Hub: News and Videos
Capacity Development