The
United Nations (UN)
is an international governmental organization established on October 24, 1945 after the Second World War by 51 founding countries, each country known as a member state, to promote international co-operation inn solving international problems in order to prevent another such conflict.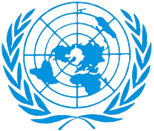 Logo of the United Nations (UN)
Its main objectives are:
to maintain international peace and security and develop friendly relations among nations
to promote sustainable development for better living standards and social progress
to protect human rights
to uphold international law
to deliver humanitarian aid
The United Nations provides a forum for its member states to express their views, to find areas of agreement and solve problems together in General Assembly, the Security Council, the Economic and Social Council and other bodies and committees.


The United Nations (UN) emblem was approved on 7 December 1946
The UN Charter was signed on June 26, 1945 and entered into force on October 24, 1945. The powers of the United Nations are given by this Charter which is considered an international treaty.
The 6 principal organs of the United Nations are
General Assembly: Deliberative assembly of all member states
Security Council: Responsible for international security issues
Economic and Social Council: Responsible for global economic and social affairs
Trusteeship Council: Responsible for administering trust territories
International Court of Justice: The universal court for international law
UN Secretariat: The administrative organ of the United Nations
Currently, the United Nations comprised of 193 member states and 2 observer states.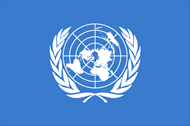 The United Nations (UN) flag was adopted on 20 October 1947
The United Nations is funded by assessed and voluntary contributions from its member states.
The United Nations Chief Administrative Officer is the
Secretary-General
.
The programmes and funds of the United Nations are:
United Nations Development Programme (UNDP)
United Nations Children's Fund (UNICEF)
World Food Programme (WFP)
United Nations Office on Drugs and Crime (UNODC)
United Nations Population Fund (UNFPA)
United Nations Conference on Trade and Development (UNCTAD)
United Nations Environment Programme (UNEP)
United Nations Relief and Works Agency for Palestine Refugees (UNRWA)
UN Women
United Nations Human Settlements Programme (UN-Habitat)
UN specialised agencies are autonomous organisations working with the United Nations through negotiated agreements.
UN Specialised Agencies:
United Nations Education, Scientific and Cultural Organization (UNESCO)
International Labor Organization (ILO)
Food and Agriculture Organization
International Fund for Agricultural Development (IFAD)
International Maritime Organization (IMO)
World Meteorological Organization (WMO)
World Intellectual Property Organization (WIPO)
International Civilian Aviation Organization (ICAO)
International Telecommunication Union (ITU)
United Nations Industrial Development Organization (UNIDO)
Universal Postal Union (UPU)
World Tourism Organization (UNWTO)
24 October is celebrated as
United Nations Day
since 1948.