Supreme Court of the Philippines
Established on June 11, 1901 in Manila, the
Supreme Court of the Philippines
is the highest court within the hierarchy of legal jurisdictions in the Philippines.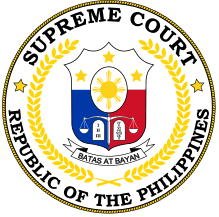 Coat of arms of the Supreme Court of the Philippines
It is commonly known as
Kataas-taasang Hukuman ng Pilipinas
in the Filipino language.
The Supreme Court has both original and appellate jurisdiction.
Pursuant to the Constitution of the Philippines, the Supreme Court has administrative supervision over all courts and the personnel thereof.
The Supreme Court consists of the Chief Justice and fourteen (14) Associate Justices who must be:
natural-born citizens,


40 years old and above


with minimum 15 years experience as a judge of lower court or law practice in the Philippines.


Justices will hold office until the mandatory retirement age of 70 or become incapacitated to discharge the duties of office.
The Supreme Court Complex is located on Padre Faura Street, Manila.
The
Supreme Court of the Philippines
official website features:
About the Supreme Court (Justices, Chief Justices, History, Brief Overview)


Public Information (Directory, Court News, Benchmark, FAQs, Transparency)


Court Decisions


Court Resolutions


Bar Admissions (Bar Exam, List of Lawyers)


Supreme Court Tour



Screenshot of the Supreme Court of the Philippines
Address:
Supreme Court of the Philippines
Padre Faura Street, Ermita
1000 Manila
Philippines

Public Information Office
5th Floor, SC-CA Building
Padre Faura Street, Ermita
1000 Manila
Philippines
Website:
sc.judiciary.gov.ph/
Share this page
Notes
Keywords
:

supreme court

philippines

chief justice

court

highest court

Guide ID: 3102 -

Last Updated: December 15, 2017