The
Supreme People's Court of the People's Republic of China (中华人民共和国最高人民法院)
is the highest court in Mainland China.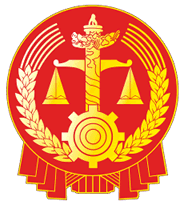 Emblem of Supreme People's Court of the People's Republic of China
It was established in September 1954 under the Constitution of the People's Republic of China.
Supreme People's Court comprises of Criminal Court, Civil Court, Economic or Commercial Court and Administrative Court.
It also has six Circuit Courts which are established as subdivision of the Supreme People's Court located outside of Beijing. The First Circuit Court (第一巡回法庭) was officially opened on 28 January 2015 in Shenzhen (Jurisdiction: Guangdong, Guangxi, Hainan, Hunan) while the Second Circuit Court (第二巡回法庭) was official opened in Shenyang (Jurisdiction: Liaoning, Jilin, Heilongjiang) on 31 January 2015. The third, fourth, fifth and sixth Circuit Courts are established in December 2016 covering almost the whole country.
Departments within the Supreme People's Court include Political Department, Research Office, Trial Administration Office, Supervision Bureau, Foreign Affairs Bureau, Judicial Equipment Administration Bureau, Party Committee, Retired Cadre Bureau, Information Bureau and a General Office.
Supreme People's Court trial process consists of a four level, two-hearing system where the second hearing is final with no further right of appeal.
The
Supreme People's Court of the People's Republic of China
official website features:
About the Court


Chief Justice and Grand Justices


Judicial Assistance, a method where different countries can assist each other in their judicial systems on the basis of equality and reciprocity


News: Cases and Scheduled Hearings, Foreign-Related Trials


Resources: White Papers, Reports, Laws and Rules, Statistics, Infographics, Lawsuit System and Gazettes


On 7 November 2016, China adopted the Film Industry Promotion Law, which is China's first law in cultural industry.
On 18 August 2017, China established the world's first internet court in Hangzhou.
Address:
Supreme People's Court of the People's Republic of China
27 Dongjiaominxiang
Dongcheng District
Beijing 100745
China

Visitor and Public Information Office of Supreme People's Court
40 Hongsi Village, Xiaohongmen Township
Chaoyang District
Beijing
China
Phone:
+(86) 10-8512-0527 (Administration Affairs)
Notes:
The English version of the website is for reference only. The official website (http://www.court.gov.cn/) is in Chinese version.
Website:
english.court.gov.cn/