Supreme Court of India
The
Supreme Court of India
was established on January 26, 1950 and is located in Tilak Marg, New Delhi.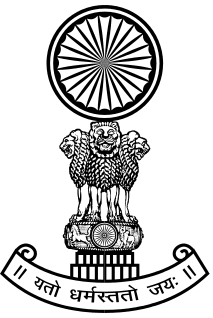 Seal of the Supreme Court of India
Comprising of the Chief Justice of India and 10 other judges appointed by the President of India, the Supreme Court of India is the highest court and final court of appeal in India. It has powers in the form of original, appellate and advisory jurisdictions.
The proceedings of the Supreme Court are conducted in English only.
Article 145 of the Constitution of India empowers the Supreme Court to frame its own rules of court for regulating the practice and procedure of the Supreme Court.
The
Supreme Court of India
official website features:
Cause Lists


Case Status and Category


Daily Orders


Judgments


E-Filling


Office Report


Caveat


Chief Justice of India and Judges


The Court (History, Constitution, Jurisdiction, Former Chief Justices and Justices, Assets of Judges, Museum)


Publications (Practice & Procedure Handbook, Supreme Court Rules, Court News, Supreme Court Reports SCR, Mediation Training Manual of India, National Court Management System)


Court Fees Calculator


Advocates-on-Record and Senior Advocates


Interlocutory Application


India Code and Courts and Forms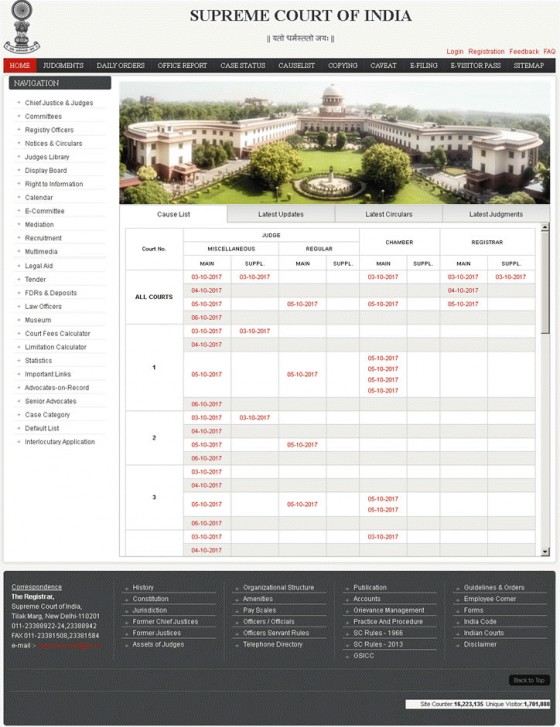 Screenshot of the Supreme Court of India
Address:
Supreme Court of India
Tilak Marg
New Delhi-110201
India
Phone:
+91 (011) 2338 8922-24
Notes:
Website available in English version only.
Website:
supremecourtofindia.nic.in/
Share this page
Notes
Keywords
:

india

supreme court

chief justice

highest court

final court

court of appeal

Guide ID: 3100 -

Last Updated: October 2, 2017