The development of the legal system in Sabah & Sarawak can be traced back to 1865 and 1842 respectively. A legal system thus developed with the English principles of law and justice being applied, with modifications to suit the local customs and conditions.
The first judges and magistrates were in fact administrators. The highest court in each territory was the
Supreme Court
. North Borneo only got its first legally qualified Judicial Commissioner in 1912, a post later called
Chief Justice
. The territory of Sarawak had its first legally qualified Judge in 1928.
North Borneo and Sarawak became Crown Colonies after the Second World War and together with Brunei, formed a
Combined Judiciary
. In addition to the
High Court
, a
Court of Appeal
was established. The Combined Judiciary was headed by a Chief Justice. This system continued until 1963 when North Borneo was renamed Sabah and together with Sarawak, merged with Malaya and Singapore to form the Federation of Malaysia. Brunei's Judiciary went its separate way.
Under the Malaysian Federal Constitution, the States in Malaya and the Borneon States of Sabah and Sarawak shall have one High Court each, each of co'ordinate jurisdiction and styled the
High Court of Malaya
and the
High Court of Sabah and Sarawak
.
When the Federation was formed in 1963 each High Court was headed by a Chief Justice. The Chief Justice of the Borneon States is based in Kuching. The titles of Chief Justices were later changed to Chief Judges in 1994, and the High Court of Borneo, to the High Court in Sabah and Sarawak.
The High Court has the jurisdiction to hear:
criminal cases which carry the death penalty. Specifically, the jurisdiction of the High Court in criminal cases is provided in sections 22, 26, 31 and 35 of the Courts of Judicature Act 1964.


civil cases in respect of divorce, matrimonial causes; admiralty; bankruptcy & company cases; appointment & control of guardians of infants/disabled persons and their property/estate; and grant of probates of wills & letters of administration.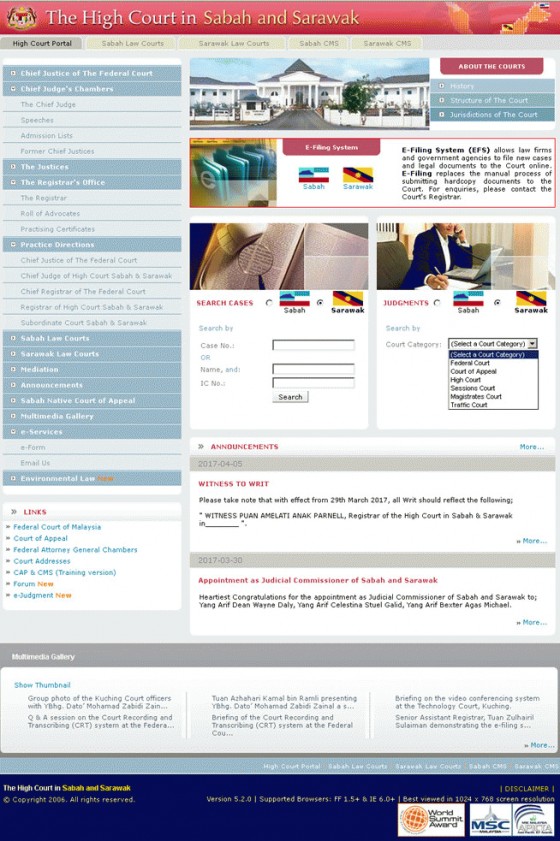 Screenshot of High Court in Sabah and Sarawak
The official website of the
High Court in Sabah & Sarawak
features:
Court History, Structure & Jurisdictions;


The Chief Judge, Former Chief Justices;


The Justices;


The Registrar's Office (The Registrar, Roll of Advocates, Practising Certificates);


Practice Directions (Chief Justice of High Court Sabah & Sarawak, Chief Registrar of the Federal Court, Registrar of High Court Sabah & Sarawak);


Mediation;


Sabah Native Court of Appeal


Search Cases by Case Number or Name and IC Number Online


Search Judgments by Court Category


E-Filing System (EFS);


e-Services (e-Form).


Address:
High Court Kota Kinabalu
Peti Surat 10837
88809 Kota Kinabalu
Sabah

High Court Tawau
Peti Surat 548
91800 Tawau
Sabah

High Court Sandakan
Peti Surat 51
90007 Sandakan
Sabah

High Court Kuching
Kompleks Mahkamah Kuching
Jalan Gersik
93050 Petra Jaya
Kuching
Sarawak

High Court Sibu
Kompleks Mahkamah Sibu
Jalan Tun Abang Haji Openg
96000 Sibu
Sarawak

High Court Miri
Kompleks Mahkamah Miri
Jalan Merdu
98000 Miri
Sarawak

High Court Bintulu
Kompleks Mahkamah Bintulu
Jalan Pisang Mas
97000 Bintulu
Sarawak
Website:
www.highcourt.sabah.sarawak.gov.my/