Yayasan Sabah
, also known as the
Sabah Foundation
in English, was established in 1966 by the Sabah Foundation Enactment 1966 [Sabah No. 8 of 1966].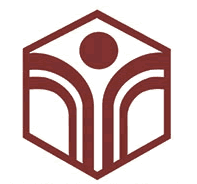 Logo of Sabah Foundation
The main initial task of this statutory body was to improve the educational opportunities and facilities for the people of Sabah by promoting the establishment of a university college in Sabah, arranging the award of scholarships from various institutions to students of Sabah origin and making donations to schools in need of special assistance.
Beginning 1988, Yayasan Sabah began contributing to the improvement of the quality of life and the standard of living of the present and future generation of Sabahans and to bring about the desired change in revitalising the rural areas and transforming them into dynamic growth regions so that the people would rely less on the government and more on themselves to obtain what they want in promoting their own economic growth.
Yayasan Sabah has since undergone several phases of development and evolution.
The current objectives of Yayasan Sabah include uplifting the quality of education and educational facilities; relieving of poverty; and undertaking of activities which are benevolent & charitable in nature.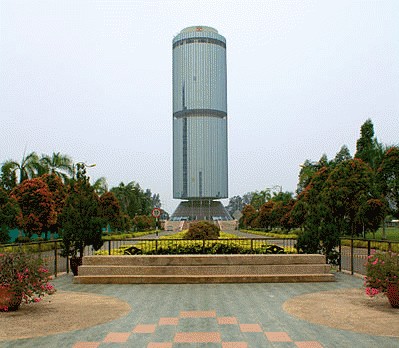 Menara Tun Mustapha (formerly Yayasan Sabah Building)
The construction of the
Yayasan Sabah Headquarters building
began in 1976 and was completed in 1979 at the cost of RM38 million. The 30-storey building is an iconic landmark in Sabah. It is structured as a 72-sided polygon and encased in solar-reflective glass. The building is the first high rise office blocks in Asia and fourth in the world to have column free floors 'hung' on steel brackets.
The Yayasan Sabah building was renamed
Menara Tun Mustapha
on July 31, 2001. The building incorporates: podium, office space, 1,500-capacity auditorium, conference hall, cafeteria, revolving restaurant, civics square, 320-capacity mini theatrette, exhibition foyer, eight lifts, 350-space basement car park and Tun Hj. Mohd. Fuad Stephens Borneo Research Library.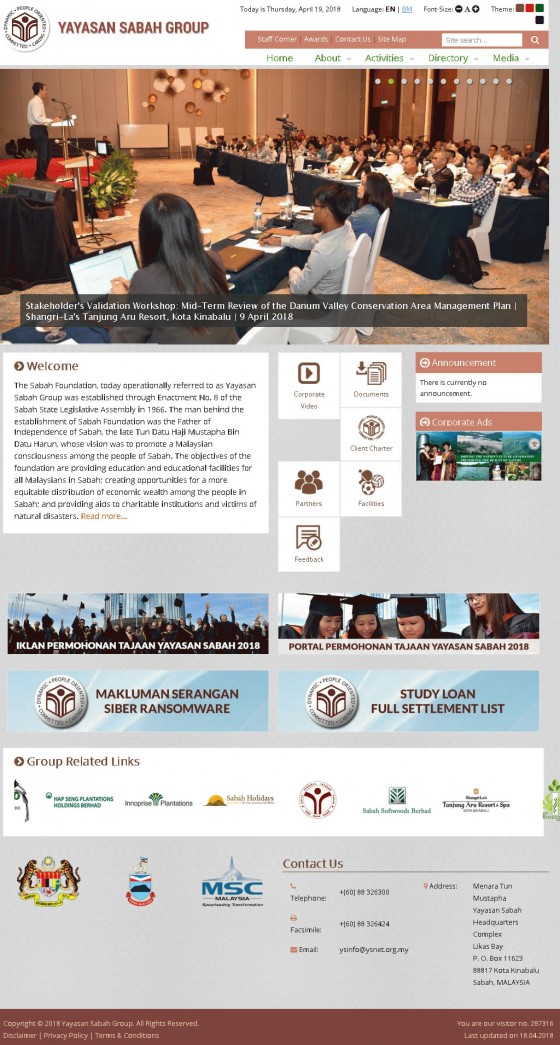 Screenshot of Yayasan Sabah Group
The
Yayasan Sabah Group
official website features:
Social Activities (Community Development Programs, Zone Offices, Research on Society Programs, Capacity Development, Education, Child Development, Kolej Teknikal Yayasan Sabah, University College Sabah Foundation, Tun Hj. Mohd. Fuad Stephens Borneo Research Library, Tun Mustapha Gallery, Occupational Safety and Health)


Commercial Activities (Innoprise Corporation Berhad, Tourism, MICE, Plantation, Forestry, Biotechnology and Horticulture, Fisheries and Food, Real Estate Development, Oil and Gas, Transportation, Manufacturing, Overseas Companies)


Corporate Social Responsibility (Conservation and Environmental Management)


Directory


Media (Photo and Video Galleries, Publication, Activities)


Address:
Menara Tun Mustapha
Yayasan Sabah Headquarters Complex
Likas Bay
P. O. Box 11623
88817 Kota Kinabalu
Sabah
Malaysia
Phone:
+(60) 88 326300
Notes:
Available in both English and Malay versions.
Website:
www.yayasansabahgroup.org.my/