Lembaga Kaunselor (Board of Counsellors)
Board of Counsellors of Malaysia
is commonly known as the
Lembaga Kaunselor Malaysia
in Malay.

Logo of Lembaga Kaunselor Malaysia
It is a statutory body under the
Ministry of Women, Family and Society Development
.
In view of the complexity of social problems and the need for trained and qualified personnel to address these problems, the Counsellors Act (Akta Kaunselor) was enacted in 1998. The Act provides for the registration and practice of counsellors in Malaysia and the establishment of the Board of Counsellors to ensure professionalism and high standards among counsellors. With the implementation, it is mandatory for all practising counsellors to be registered with the Board under the Counsellors Act 1998 [Act 580].
The main responsibility of the Lembaga Kaunselor is to oversee and regulate counselling services in Malaysia. Counsellors exist in schools, universities, public services, drug rehabilitation centres, prison, religious and health centres, corporation and community.
Counsellor Registration Type of Forms:
Form A: Registration and Biennial Practising


Form C: Application for Temporary Registration


Form F: Application for Certificate of Practice Biennial


Form H: Application for Renewal of Temporary Registration Certificate/Certificate Practice/Practice Certificate Biennial


The Lembaga Kaunselor official website features:
Counsellors Directory: Searchable by Name and Registration Number (PA No.)


Publications: News; Seminar and Workshop Materials; Legislation; Guidelines; Forms, Books


Counsellor Registration Online Registration


Qualifications and Procedures


Online counsellor services are available for:
Registration for Malaysian Citizen


Registration for Non Citizen


Biennial Practising Certificate


Renewal of Biennial Practising Certificate


Update Registered Counsellor Profile


Check Application Status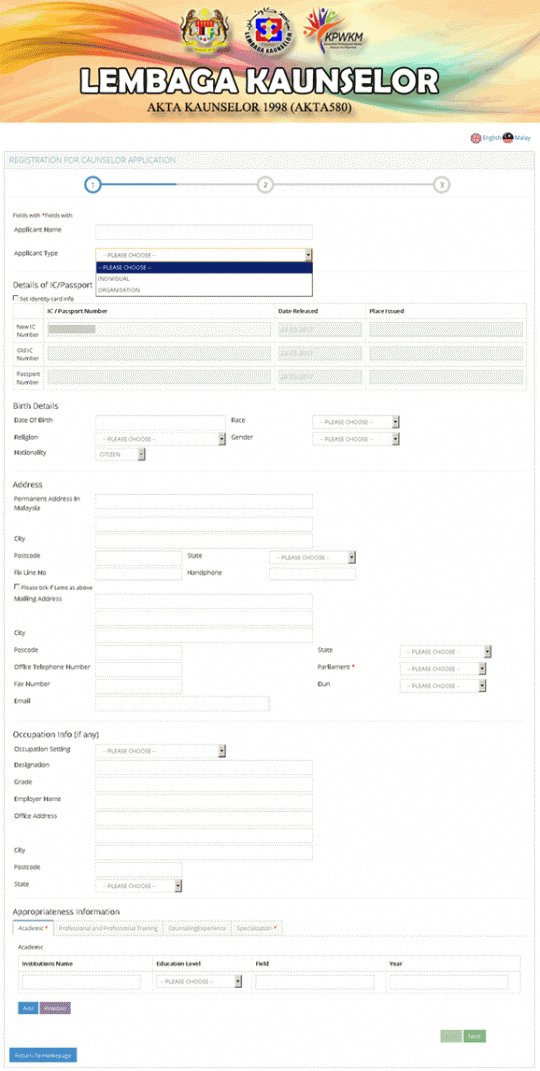 Screenshot of Lembaga Kaunselor: Online Counsellor Registration
Address:
Head Office:

Kementerian Pembangunan Wanita, Keluarga dan Masyarakat
Urus Setia Lembaga Kaunselor
Aras 19, No. 55,
Persiaran Perdana
Persint 4
62100 Putrajaya
Malaysia
Notes:
Official website is available in English and Malay version but much of the content is still in Malay language.
Website:
www.lkm.gov.my/
Share this page
Notes
Keywords
:

malaysia counselling services

counsellor

kaunselor

Guide ID: 2170 -

Last Updated: May 2, 2019